Athlete of the Week: Women's Tennis' Esther Lee
The sophomore soared to back-to-back victories this past week.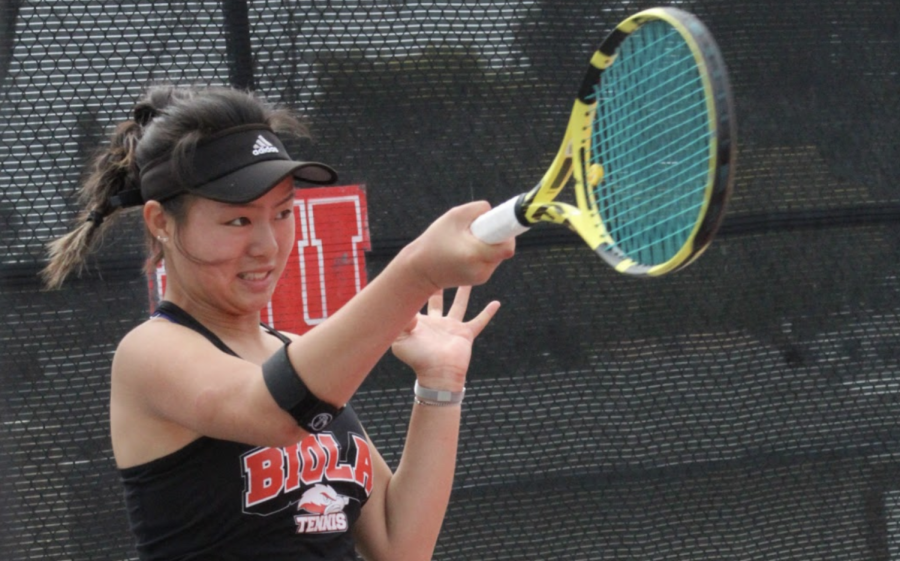 Women's tennis is halfway through their 2019 season with a winning record at 5-4. Sophomore Esther Lee has been showing her strength by stepping up in tough matches and displaying consistency throughout the season, but has begun to peak in the recent weeks.
Lee was able to lead her team to a big win against Dominican University of California on Wednesday at the Biola Tennis Center. She rallied to victory in her singles match, 5-7, 6-2, 6-3. Teammate Lauren Lee also contributed to the duo's win in the No. 1 doubles match, 6-1.
Just a day before, Esther Lee and Lauren Lee were the only pair to win a doubles match against Angelo State. They fought back from a first set loss and ultimately earned the win with a score of 6-4.
Lee has shown consistency throughout the season, but has begun to peak in the recent weeks. She has been a leading factor in her team's recent success and a shining factor in the positive energy engaging on and off the court.
Lee's brilliance has brought Biola tennis plenty of team success this year, and for that, she is our Chimes Athlete of the Week.
About the Writer
Andi Basista, Sports Editor
Andi Basista is a junior journalism major who loves basketball, underground music and is highly appreciative of a good beach day.



Originally from a small farm town in Ohio, I have put aside my corn shucking gloves to embrace a new life in the Angel City to study sports journalism. It is true what they say about culture shock and LA traffic. I am used to being late to work because of getting stuck behind a John Deere tractor, but now it is because of gridlock on the I5. However, I have quickly...