Women's tennis shut down by Cal State LA
The Eagles suffer tough loss to the Golden Eagles.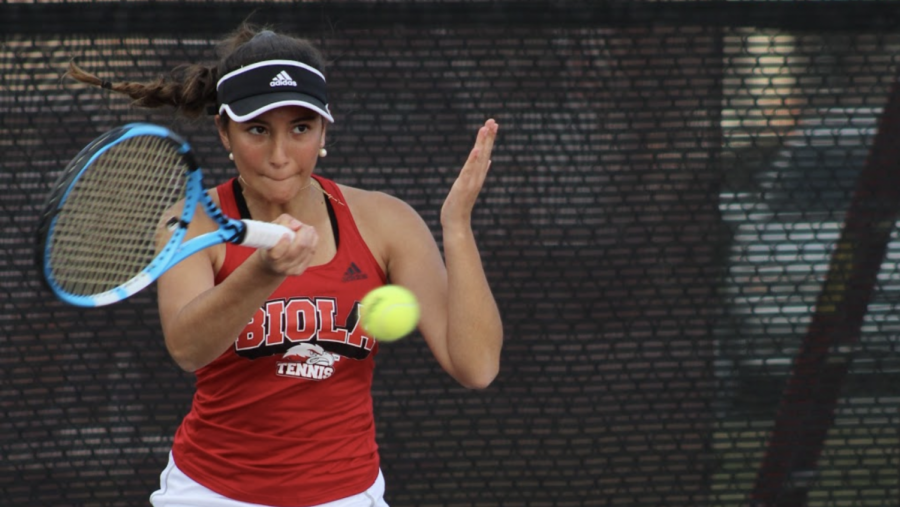 Women's tennis took a tough loss against Cal State Los Angeles during Monday's away match in Los Angeles, defeated by a score of 6-1. Biola could not break through the Golden Eagles' powerful play in both the singles and doubles matches, and this domination rewarded Cal State LA with their second straight win.
The Eagles' first and second doubles teams struggled to gain an advantage as sophomore Esther Lee and junior Lauren Lee were defeated by Cal State LA's No. 1 doubles pair, 6-4. Freshman Ines Diaz and junior Allison Torres also fell short in their doubles match, 6-3. However, the No. 3 doubles duo of freshman Anna Hartmann and sophomore Lily Waterhouse rallied to a victory, 6-3.
It still became a rough day for the Eagles in the singles matches. Two of the six contests were taken to the final round but did not end in favor of Biola. Esther Lee took her opponent to three sets by winning the first set, 6-4. However, she could not keep up the same level of play and lost the last two sets 6-2 and 10-4. Diaz took her singles match to three sets, ultimately winning the last two for a 2-6, 6-3, 10-8 victory.
Lauren Lee lost her singles match 6-0, 6-1, and Waterhouse and Torres both lost their matches in straight sets, 6-1, 6-1. Sophomore Sarah Morgan took a 6-0, 6-1 loss.
The Eagles (1-2 overall) look to redeem themselves on Saturday at the Biola Tennis Center against Whittier College at 10 a.m.
About the Writer
Andi Basista, Sports Editor
Andi Basista is a junior journalism major who loves basketball, underground music and is highly appreciative of a good beach day.



Originally from a small farm town in Ohio, I have put aside my corn shucking gloves to embrace a new life in the Angel City to study sports journalism. It is true what they say about culture shock and LA traffic. I am used to being late to work because of getting stuck behind a John Deere tractor, but now it is because of gridlock on the I5. However, I have quickly...