Check out the "More Art Upstairs" screening
Jody Hassett Sanchez' documentary "More Art Upstairs" will be screened this Tuesday in Calvary Chapel.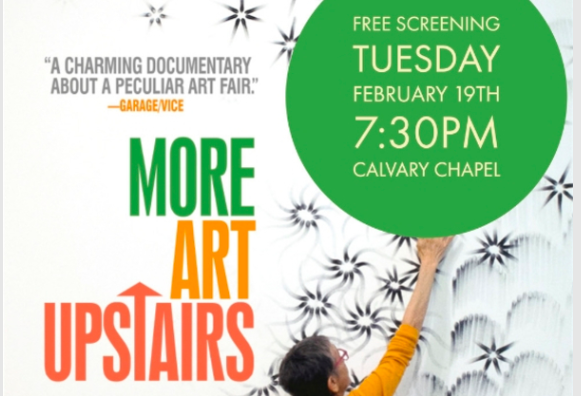 On Tuesday, Feb. 19, Biola's art department will be screening the documentary "More Art Upstairs," directed by Jody Hassett Sanchez, in Calvary Chapel from 7:30 to 9:30 p.m. The film displays the story of four artists competing at ArtPrize, a competition that gives the public the chance to vote and choose the winner of a $500,000 cash prize. Contestants in this competition will be given the chance to be seen by major art critics from all over the world and gain exposure from being a part of this experiment. The four contestants that are documented in this film are competing against 1,500 other contestants, with art displaying all throughout the town of Grand Rapids, Michigan open to the public to view and critique. Unlike many art competitions, this movie displays how the public votes on the winner.
Following the screening, chair of the Department of Media, Journalism and Public Relations Tamara Welter will moderate a Q&A session with Sanchez. Sanchez's focus is on the integration of faith and culture in films and has had played a major role in several programs, including ABC's "World News Tonight" and "Nightline." She was also a senior producer of CNN's "Cold War Postscript." Attendees will have the opportunity to discuss the film and her inspiration for it. Students interested in seeing this film should come to this free event.