Men's basketball rallies in Hilo
The Eagles claw back from 20 points down for a remarkable win.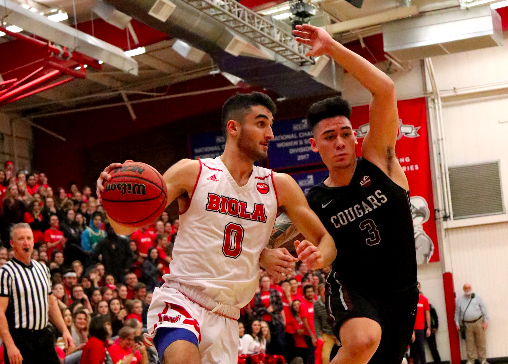 In a game that at one point seemed like a blowout in favor of the University of Hawaii-Hilo Vulcans, men's basketball turned the tables and fought their way to a big 79-77 win on Monday. The comeback did not come easy to the Eagles, but they sealed the deal with a 13-3 run late in the second half.
Senior forward Levi Auble went 8-11 in the final 20 minutes, racking up 23 points and nine rebounds total to lead the Eagles to victory. Sophomore guard Michael Bagatourian put up 19 points and seven rebounds of his own while contributing to the win. The two made over half of the Eagles' points scored [27 of 50] in the second half alone.
SECOND HALF SHIFT
The Eagles went cold as Hawaii Hilo started to pull away early. Biola shot only 36.7 percent from the field, putting them in a 19-point deficit at the end of the first half. The Vulcans' offense dominated the first 20 minutes of play, but their efficiency started to dwindle as the game went on.
The second half was all Eagles, who scored 18 points off second-chance shots. Shooting at 57.1 percent, they regained their confidence and started to climb their way back into the game. Biola scored 19 points off of the Vulcans' turnovers, showing their strength on both ends of the floor. Slowly but surely the Eagles crept up on the Vulcans, scoring when it mattered the most and holding them to only six of 15 shooting from the field. A clutch push from the Eagles in the final minutes, led by Auble and Bagatourian, clinched the comeback as they pulled ahead and gained the victory by two points.
Senior forward Alex Talma added 11 points and eight rebounds, and freshman guard Alex Wright also contributed with 10 points and six rebounds.
The Eagles (12-9 overall, 8-7 PacWest) will head home to continue conference play against Concordia University Irvine at Chase Gymnasium on Feb. 12 at 7:30 p.m.