Men's basketball bounces back against Hawaii Pacific
Five Eagles reach double digits in the victory.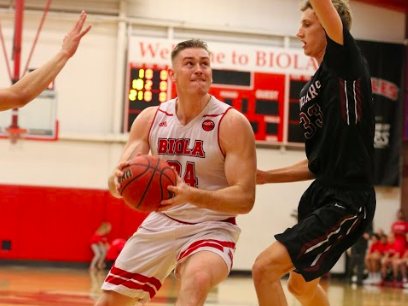 Hang on for a minute...we're trying to find some more stories you might like.
The Eagles recovered from a tough loss against Chaminade by beating Hawaii Pacific University in Kaneohe, Hawaii, 65-56. Biola spread the points around, with five players scoring in double figures.
Senior guard Trevor Treinen ended the night with 12 points, four rebounds, and four assists. Senior forward Alex Talma had 11 points and 10 rebounds, resulting in another double-double for the New Zealand native. Senior guard Christian Carroll also had 11 points along with four rebounds. Senior forward Levi Auble and freshman guard Alex Wright both contributed 10 points.
TEAM CHEMISTRY
There were five lead changes in the first half, which left the Eagles fighting a back-and-forth battle with the Sharks. Talma had nine of his 11 points in the first half, helping the team stay in the game. They left the first period only being down one point, 24-23, and came into the second period ready to take control.
Carroll and Wright led the team towards victory in the second half. All 11 of Carroll's points came in that half alone, and Wright went 6-7 from the free throw line to push the Eagles into a more comfortable lead.
The Sharks put up a good fight, but ultimately it was the Eagles' chemistry that kept them on top. Biola's scoring could not be stopped, with the entire team being a threat on the offensive end.
The Eagles (11-9 overall, 7-7 PacWest) will take on University of Hawaii Hilo on Feb. 4 at 9:30 p.m.
About the Writer
Andi Basista, Deputy Sports Editor
Andi Basista is a sophomore journalism major with a concentration in writing and publishing. She enjoys spending her time at the beach, exploring new parts of LA, and going to concerts with friends.



Hi, my name is Andrea Basista, but most people call me Andi. I'm from a small farm town in Ohio where there is just about as many cows and chickens as people. My time in the midwest was filled by husking corn and playing year round basketball with friends and family. I began my love for sports...