Women's basketball falls short in second Hawaiian matchup
Benn leads the Eagles offensively with four three-pointers in a loss at Hawaii Pacific.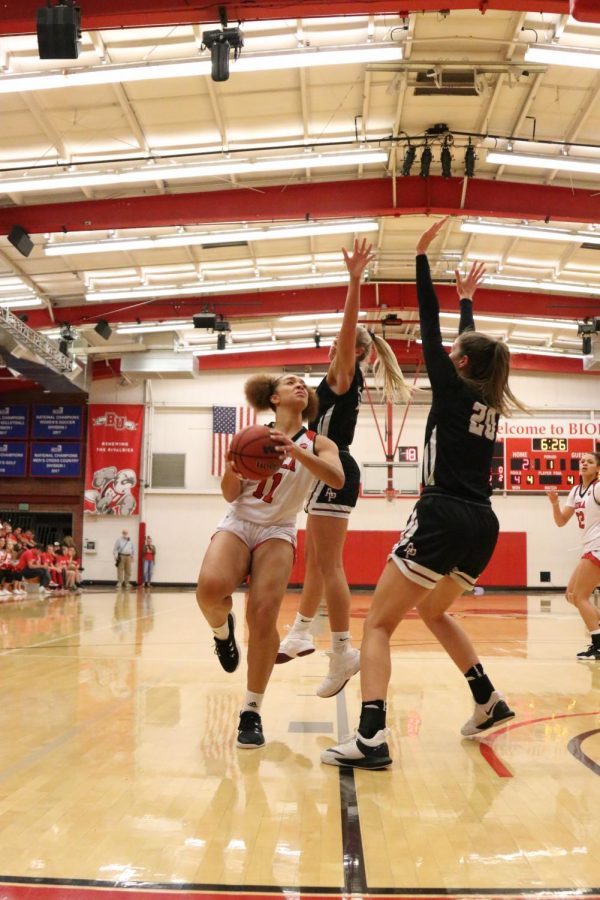 Biola women's basketball team struggled on Saturday afternoon at Hawaii Pacific University, losing 72-59. Sophomore forward Jazz Benn led the Eagles with 16 points and shot 50% from deep, converting four of her eight three-point attempts.
The Eagles started the first period strong, as Benn and junior guard Tatum Brimley scored a pair of layups, putting Biola up 4-3 two minutes in. Between tight play from both sides, senior forward Jessica Shill snagged three rebounds and a steal, leading Biola's defensive charge. Still, the Eagles had fallen to a ten-point deficit with ten minutes remaining in the first half.
The Sharks continued to put points on the board, denying Biola any chance at the hoop and widening the gap to 35-17 with only three minutes until halftime. Benn ended the second quarter with a three-pointer, making the score 39-22, HPU.
Benn was the silver lining for the Eagles' offense, hitting a jumper seconds into the third quarter and scoring a three-pointer minutes later in an attempt to bridge the gap, making the scoreboard show 42-27.
The third quarter began to mimic the second as Biola fell behind and HPU pressured the Eagles, scoring easy layups off several turnovers, inflating the deficit to 21 points.
In the fourth quarter, Biola began to fight back, with junior forward Mikayla Greens scoring two layups and assisting Benn with her third three-pointer of the night with four minutes to go. By then, though, it was too late, freshman guard Danita Estorga finished the match with a three-pointer to make the final score of the Eagles' loss 72-59. The Eagles (9-11 overall, 7-7 PacWest) will be back on the court Monday at 7:00 p.m. at University of Hawaii at Hilo.