Men's basketball earns their second PacWest victory
Biola's defense shut down Holy Names University, propelling them to another win.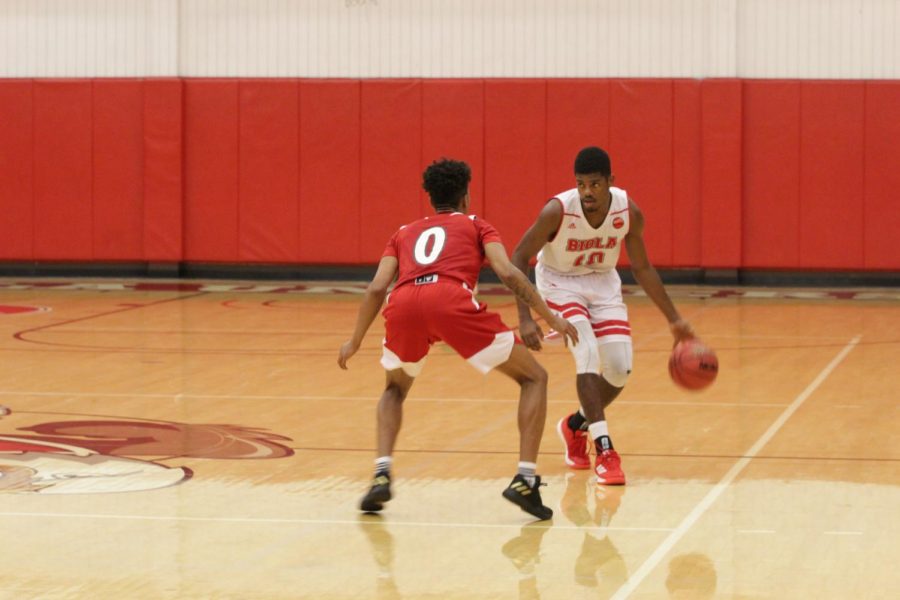 Men's basketball came into Saturday's game at Chase Gymnasium against Holy Names University seemingly ready to compete. After a hard-fought contest, the Eagles rose above the Hawks for a final score of 61-50.
Senior forward Levi Auble took charge of the night, putting up 14 points and 5 rebounds.
Sophomore guard Michael Bagatourian tied with Auble for the team-high score with 14 points to go along with, 9 rebounds and 2 assists. Senior guard Trevor Treinen contributed 12 points, four rebounds and 2 assists. Freshman guard Alex Wright also chipped in 12 points of his own.
DOMINANCE ON THE DEFENSIVE END
The Eagles got rolling with a quick 9-0 run to start the first five minutes of the game. The Hawks struggled on the offensive end, allowing the Eagles to gain a comfortable lead. Auble electrified the energy and momentum of the game with a fast break slam dunk assisted by freshman guard Whitten Dominguez.
"The first ten minutes of defense was very good, it was our best defense of the year, and then we got a little comfortable and we didn't move the ball as well. They started to close the gaps, but we pulled away and were up 16 at halftime," said head coach Dave Holmquist. "It's nice when you can win a game and have a lot of things that you can learn from that game at the same time."
EAGLES FOUGHT TO STAY ON TOP
Coming out of the half, the Hawks looked to claw their way back from the 16-point deficit, and started to do just that with a 7-0 run right out of the gate. The Eagles struggled early in the second half to find a rhythm as their shots were not sinking.
The game increased in tension as the Hawks crept their way back into the game only down 48-42. However, Biola powered through Holy Names' rough physical play and stayed on top.
"I think we just stayed calm and we didn't let the momentum of the other team get to us, we just stuck to our principles," Auble said.
Despite senior forward Alex Talma and Bagatourian both fouling out in the final minutes of the game, Biola still found a way to keep the lead and earn the victory.
Biola (6-2, 2-0 in conference) will travel to San Diego on Wednesday to take on Point Loma Nazarene University at 7:30 p.m.
About the Writer
Andi Basista, Sports Editor
Andi Basista is a junior journalism major who loves basketball, underground music and is highly appreciative of a good beach day.



Originally from a small farm town in Ohio, I have put aside my corn shucking gloves to embrace a new life in the Angel City to study sports journalism. It is true what they say about culture shock and LA traffic. I am used to being late to work because of getting stuck behind a John Deere tractor, but now it is because of gridlock on the I5. However, I have quickly...