Music at Noon gets spooky
Conservatory treated students with a Spooktacular performance.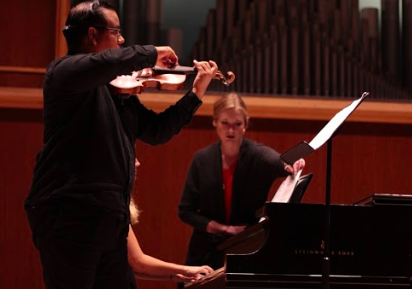 On Wednesday, Oct. 31, the Biola Conservatory of Music presented its Spooktacular Music at Noon Concert in Crowell Hall. Organ studio artist Jung-A Lee, associate professor of voice and opera Richard Zeller, alumnus Hector Gonzalez and the Vocal Jazz ensemble performed eerie, hair-raising pieces for the audience.
Lee performed Bach's "Toccata and Fugue in D Minor." Dressed in full black, she entered the stage, transforming the room into a haunted house with a strike of the organ keys. This concert opener was dramatic, spooky and a perfect start to the show.
"I think that the D minor key itself can be very, very dramatic," Lee said.
Zeller sang "Erlkonig" by Franz Schubert, accompanied by a piano performance from senior music major Katherine Bode. This piece tells the creepy story of a little boy being spirited away. Zeller described the King of the Elves, the Erlkonig, who abducts children.
Although Zeller sang the piece in German, the image of this panicking child could be clearly seen through his expression and was also demonstrated by the terror heard in his deep baritone voice.
Gonzalez, the violinist, performed "Danse Macabre for Violin and Piano, Op. 40," with Bode on the piano. This waltz began in major mode, deceiving the audience into thinking this piece would be light and happy. However, the atmosphere quickly changed, as the mode changed to minor and the waltz became a sinister dance of death.
Finally, to close the concert, Vocal Jazz sang Michael Jackson's creepy classic, "Thriller." The ensemble sang this upbeat piece acapella with incredible vocal percussion provided by junior music education major Journey Rhorer and a solo sung by senior applied music major Christopher Hutton.