Check out this Halloween watchlist
Here are the spookiest movies and shows to watch this Halloween.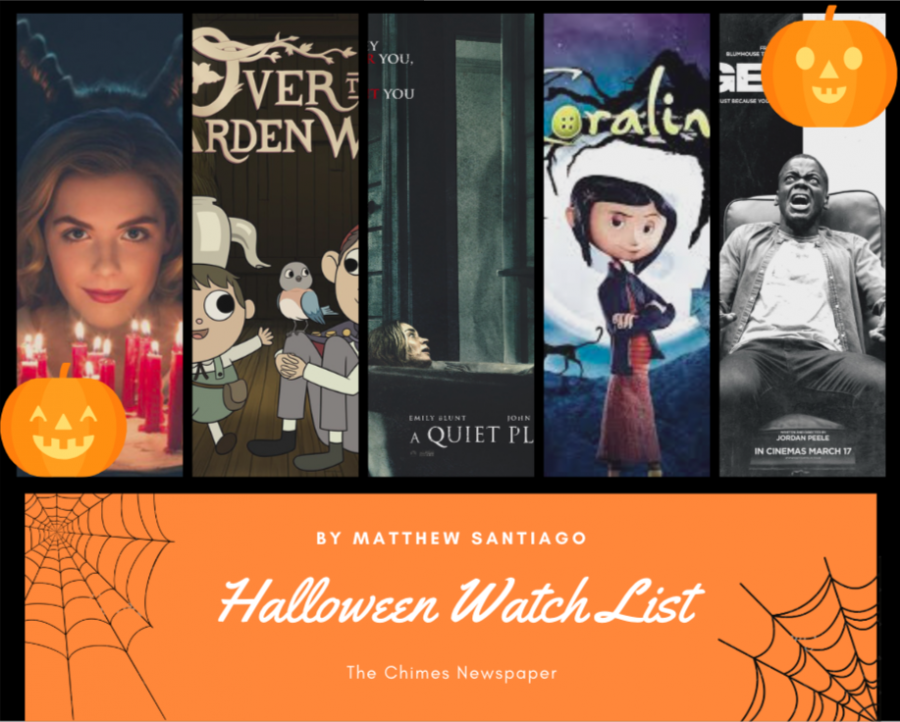 Matthew Santiago, Freelance Writer
October 31, 2018
This Oscar-winning film is extraordinary and very relevant to modern audiences. Jordan Peele's horror-comedy focuses on a black man, portrayed by Daniel Kaluuya, facing unthinkable circumstances when he meets his girlfriend's "progressive" white parents. Peele uses racial tension to drive the suspenseful story, proving that the horror genre has the ability to tell a compelling story filled with social commentary.
2018's popular horror flick "A Quiet Place" has given audiences a breathtaking experience. The film presents a remarkable balance of storytelling and suspense. John Krasinski and Emily Blunt deliver stellar performances as parents trying to keep themselves and their children alive by being as quiet as possible. With a sequel already on its way, fans of this instant classic have much to look forward to.
From the creator of "Riverdale" comes a dark retelling of the famous teenage witch. Unlike the '90s sitcom, "Sabrina The Teenage Witch," "The Chilling Adventures of Sabrina" presents a much more sinister twist on the witch of Greendale. The series follows Sabrina Spellman, played by Kiernan Shipka, as she approaches her 16th birthday, and must decide between her family of witches and the human world of friends. Netflix's willingness to explore the disturbing imagery spreads throughout the series, enhancing the story.
"The Nightmare Before Christmas" is not the only stop-motion Halloween-time classic. Coraline Jones is an 11-year-old girl who is dissatisfied with her life. She finds a secret door in her new home that leads her to a world filled with her heart's desires. However, there are more secrets to the land than she realizes. "Coraline" is a mature story for kids about making the best of the life we are given, reminding us to be careful about what we wish for.
This Cartoon Network mini-series tells the tale of two brothers, Wirt and Gregory, voiced by Elijah Wood and Collin Dean, as they try to find their way home through the woods, making friends and discovering danger along the way. The orange and yellow imagery throughout the series radiate a warm tone that reflects the different character arcs throughout the series. Wirt and Greg both grow as they learn from their experiences and their relationship with each other. "Over the Garden Wall" is a beautiful love letter to the fall season.