Turn Your Campus encourages increase in diversity
Campus fills with people of color through the faces of young students.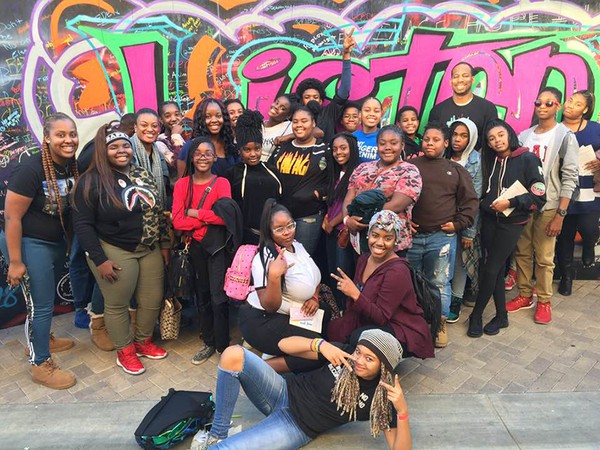 Once every year, unbeknownst to many students—except to those who go to the Caf between 12 and 3 p.m. on Saturdays—Biola hosts hundreds of junior high and high school students from all over Orange and LA counties and their surrounding areas. I have had the opportunity to serve with Turn Your Campus twice during my time at Biola, and I have seen how inspirational this conference is for younger students looking to make a change. The conference aims to encourage young students to step into leadership roles on their campus. Additionally, it offers sessions training youth leaders and pastors in the best ways to support their students. The spoken word artist Propaganda performs, they deck out the gym and pump kids up on what God is doing in their lives and through them.
COLORFUL CAMPUS
This year, TYC took place on Jan. 27. When my roommate came home, she asked if we had been on campus today. She said, with joy on her face, that she had never seen so many brown children on campus at once, and that it made her so happy to see the white and black students at an almost equal number.
This struck me. Although Biola seeks more integration with diversity, there still remains a noticeable change when there is a shift in the color of our population.
Events like Turn Your Campus reach out to areas around the greater LA area that would not have come to Biola otherwise. This is just a fact.
When Turn Your Campus first began, there was a lot of concern expressed by pastors, youth leaders and parents of children in lower income areas or minority races, due to Biola's—as  estimated by College Board—46 percent white population.
These concerns were not misplaced. The Guardian published an article citing the Race for Equality report. Within this survey of 900 students of African, Asian and Caribbean background, studies showed that despite general favor toward their respective universities:
"23% described the universities they attended as "cliquey" and 7% as "racist". There was also widespread frustration that courses did not reflect non-white backgrounds and views."
These are the fears that some pastors from inner city LA taking their youth groups to Turn Your Campus maintain. How is it that, even at a university where all of our banners reflect the beautiful, multi-colored faces of our students, we are still apprehended for being racist and racially exclusive?
It is because 46 percent of our population is white.
According to Biola News, The Education Trust states:
"College graduation rates nationwide are far too low, particularly among students of color­—a fast-growing demographic in America."
However, the Education Trust goes on to state:
"Biola is listed as one of 25 private universities that have made the biggest strides in the past six years helping close the gap between graduation rates of Hispanic students and white students."
INTEGRATION TO RAISE ENROLLMENT
Through programs such as Turn Your Campus, Ignite, and visitations of Advancement Via Individual Determination, or AVID, groups, we are taking solid steps toward the outcome of our campus' integration. On campus, the Mosaic Cultural Center hosts Student Enrichment and Intercultural Development. This department encourages FirstGen, Affinity Groups—such as Iron Sharpens Iron, Taro Talk, Bella and Hermanos—Gospel Choir and LEAD groups. It also puts on the annual Student Congress On Racial Reconciliation which brings people from all over the country to Biola to talk about racial reconciliation.
There is community being built, and the number of students of color on campus has grown. As it stands, 21 percent of students claim Hispanic or Latino descent. Eighteen percent claim Asian heritage, six percent claim bi-racial identity and only two percent claim black or African American, according to the College Board. As we can see, we have come a long way, but there is work to be done.
MAKE MINORITY THE MAJORITY
A group of incoming students should stand out, to be sure. But it should be due to their excitement, the sparkling in their eyes at the opportunity to be on a "cool" college campus and the size of the group. Not because the campus is such a blank landscape that any bit of color demands a double take.
We are doing better, Biola. Let us not think that just because these junior high and high schoolers are here, they will attend our university. We still have barriers to break down.