George Ezra shows his audience the fun of blues rock
Ezra inspires dynamic verve within the hearts of his fans with new album.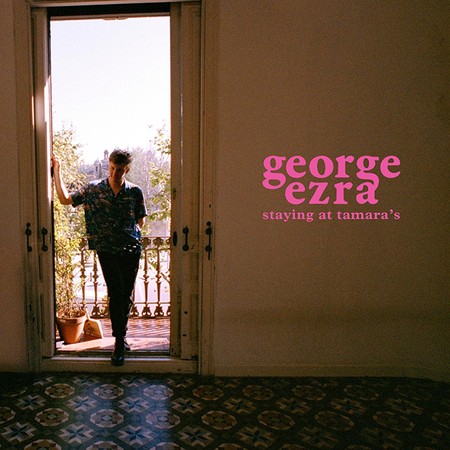 Songwriter, poet, musician and all-around Brit extraordinaire George Ezrahas made quite the name for himself. Bringing folk blues and rock Americana together, he beautifully melts into his own authentic genre. Although he has been compared to acts like Vance Joy and Tom Odell, his sound remains unparalleled with its distinct and fun characteristics. Ezra has coined two EPs alongside one full studio album in past years, and now March has brought us into a new season of Ezra's discography. His newest art piece "Staying At Tamara's" dropped on March 23, and his fans stood patiently on the sidelines with open ears for the felicitous beat.
DYNAMIC DANCING DAYS
Ezra sets up "Staying at Tamara's" with the summery beach bop "Pretty Shining People." This track happens to be the perfect introduction to an album laced with lyrically serious subjects, but still steadily maintained by the lovely beach town feel. This dynamic dancing vibe also shines through in the fourth track of the album appropriately named "Shotgun," which refers to riding shotgun in the car. His lively gift for easy-going, but absolutely fun, storytelling proves true with this song that will leave your cheeks hurting from smiling so hard.
As the album continues on, Ezra takes a different thematic turn to address some of those more solemn and vulnerable emotions the human heart often deals with. His dreamy rasp croons through in songs like "All My Love" and "Only a Human," illuminating somber souls with the hope of connection and relatability. Both songs explore feelings of inadequacy and hopelessness alongside what it feels like to fall in love and wanting to give yourself wholeheartedly to someone in a very sweet way that inspires a definite need for self-awareness. Ezra finds a way to show his artistic diversity in slowing things down in much appreciated power ballads that will woo romantics everywhere.
THE HIGHLIGHTS
The highlights of this album lie on the complete opposite end of the spectrum from each other. "Don't Matter Now" highlights sass and comedy while "Saviour" screams inner turmoil. "Don't Matter Now" encompasses Ezra's persona in its dynamic humor and gives off the conversational aspect of fun banter. "Saviour" features special guests First Aid Kit, the sister duo hailing from Sweden. Their haunting voices add a balanced edge to a song with already fantastic depth, melting together with Ezra's to form a perfect companion on your midnight drive.
With "Staying At Tamara's," Ezra has only enhanced his artistic reputation by sprinkling his music with a British influence and blues infusion. His sound has become representative of its own genre, bringing in specific assets of several genres into a final product that burns with uniqueness. As an ardent fan of his, the three-year wait has felt like an eternity, but with this album, expectations can definitely be labeled as exceeded.