All Sons and Daughters bid audiences adieu
Enjoy the duo's 10 best songs on this farewell playlist.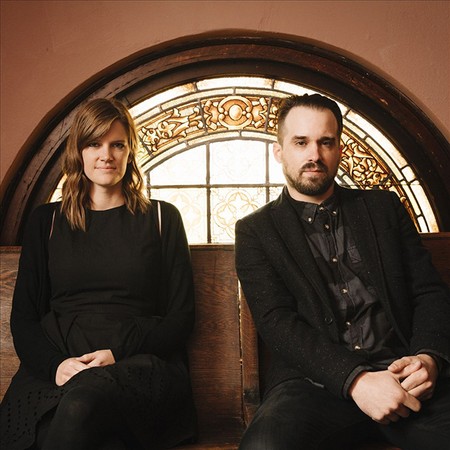 Among the myriad Christian music groups is a quieter, unique and more contemplative duo called All Sons and Daughters. Working together as worship leaders for Franklin, Tennessee's Journey Church, David Leonard and Leslie Jordan began writing music together in 2009. With a folk, acoustic sound reminiscent of The Brilliance and The Civil Wars, All Sons and Daughters have managed to combine contemplative lyrics with southern music styles. On Feb. 9, the duo announced that they would be separating amicably. Their last album entitled, "The Collection," which compiles their best songs, comes out on Mar. 16. Their two most famous songs are "Great Are You Lord" and "All the Poor and Powerless,"which churches and chapel bands all over the country play often, maybe too often. As a send off for All Sons and Daughters, here are 10 of their other best songs.
Though a simple, short song, "Brokenness Aside" makes the list for its sheer honest look at how fallen people attempt to reckon with their shame and disgrace in light of their relationship with a holy and gracious God. It focuses on God's power to transform his people when they cannot get out of their desperate ways.
This song reminds Christians how blessed they truly are, because God loves us even when we have nothing to give him in return. The first verse rings out, "When we're less there is more of the Lord."
This song is best described as the band's party song, except it does not dazzle with synthesizers and bass drops. Rather, it utilizes acoustic guitars, banjos, an accordion and a hard thumping kick drum to support it all. This praise song portrays a desperation for God in a positive, "Let's jump and clap our hands," kind of way.
A perfect song to play underneath a study session, "You Will Remain" showcases soft acoustic folk at its finest. The song describes God's unmoving devotion to his people.
Cellist Cara Fox acted as a driving force behind this intimate song. Inspired by Saint Augustine's "Confessions," the song captures a desire to rest in God in the midst of busy life where worldly desires constantly bombard believers. The only solution is finding rest in God. The bridge reads, "You cannot change, yet you change everything," which reminds the listener of Augustine's description of God, "unchangeable, yet changing all things."
This track shows the band diversifying their style with hints of jazz as a slight departure from their usual style. Paying respect to Saint Therese, "You Are Love & Love Alone" proves one of the best songs on the album.
All Sons and Daughters combines one of their songs with the classic hymn, "Nothing But the Blood," to create a potent experience of God's sheer mercy that saved his people from their sin. It manages to be soft and intimate before blaring out loud praises to God.
This track proves one of the band's deepest songs. The desperate lyrics explore the question of why a Christians should praise God in the midst of their inexplicable pain and turmoil. It calls upon God to provide comfort and some form of an answer.
This song is just flat out lively and a joy to listen to. It packs a punch while carrying a slower tempo. It calls believers to, "Wake up" and take up their cross to follow Christ.
"We Give You Thanks" is a simple, yet effective song that praises God in thankfulness for how much he has loved his people. The bridge rings out, "All honor and glory forever from now 'til the end of the age."