Women's golf finish third in PacWest
The Eagles move up two spots on the leaderboard in the final day behind Gopfert's 72.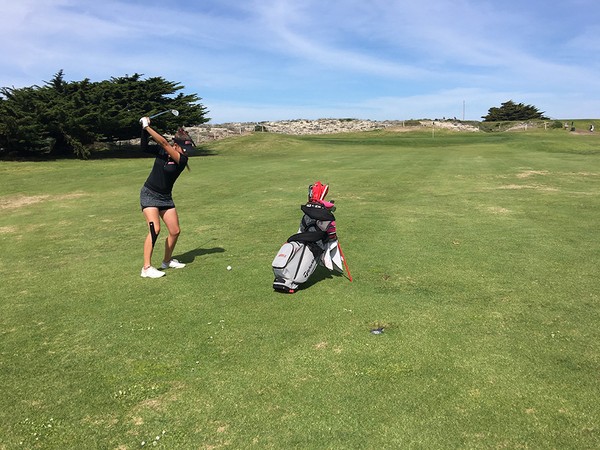 Women's golf competed in the PacWest Conference Championships from April 23-25 at the Wigwam Golf Course in Litchfield Park, Ariz. Biola's squad recovered after a poor first day score of 325 with two straight rounds of 310, moving from fifth to third in the final round.
SLOW START
The Eagles struggled on the first day of the tournament with all five members of the team carding at least an 80, which put the team in a tie for fifth. Sophomore Tori Roeske's 80 led Biola, but placed her in a tie for 17th to make her the only Eagles' golfer in the top 20 of a field of 60. Fellow sophomore Jules Loibl usually led the team on the scorecards during the season, but her round of 84 on the first day placed her on the bottom of the team leaderboard and tied for 29th overall.
The second round saw the Eagles improve as a whole, knocking fifteen strokes off of the previous day's score. The team carded four under-80 scores, led by sophomore Alexis Gopfert with a 76. Her three birdies on the back nine got her back on track after six straight bogeys on the front nine. Roeske, Loibl and freshman Marcel Manalo all came in with a score of 78 to pull within 12 strokes of Holy Names University, who sat in third place with one round to go.
GOPFERT GOLDEN AGAIN
Entering the final day, the Eagles knew they had to keep their scores low to have a chance at reaching the podium. Standout performances by Gopfert and Manalo pushed Biola to that spot with a third place finish. Gopfert continued her stellar tournament with an even-par 72 score, including six birdies, while Manalo posted a 76 with 12 pars, including seven straight to finish her round. Loibl and freshman Sophia Karnazes each carded an 81 to help the Eagles keep pace. Roeske struggled, finishing with an 89, the highest round score in the entire tournament by any Biola golfer.
Thanks to Holy Names and Dixie State University falling apart in the last round, the Eagles grabbed third place with their second 310 team score in a row. The team finished with a total tournament score of 945, only two strokes ahead of fourth. Conference champion California Baptist Universityran away with the win, finishing with a team score of 875, 32 strokes ahead of Academy of Art who came in second.
The podium finish puts a bow on a relatively successful season for the Eagles, and the team made up of mostly underclassmen will have plenty of chances in the future to grow their game.