Women's golf succeeds in Santa Cruz
Loibl launches Biola into third place finish.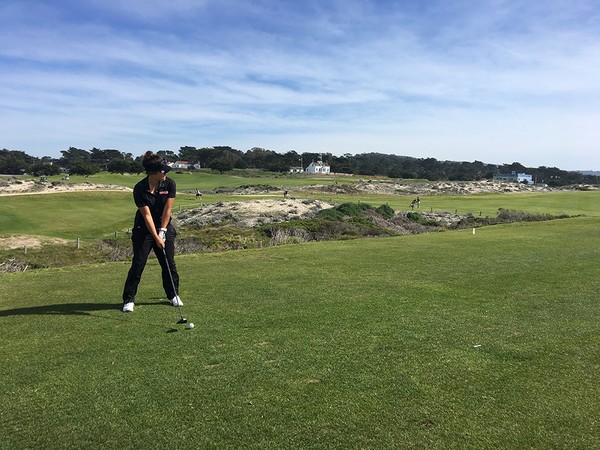 The Eagles put in a very strong showing in their final regular season competition, the University of California Santa Cruz Invitational, on March 30-31 by placing third in a field of nine teams. Five Biola golfers landed in the individual top 25.
FOUNDATIONAL FIRST DAY
On the first day, the Eagles built a good foundation for the tournament. Freshman Marcel Manalo shot a 78 to put up the best score of the day for Biola. She ended the first round tied for fifth overall. Sophomore Jules Loibl hit two birdies at the tail end of the front nine and finished with a final score of 82. Sophomore Tori Roeske performed one stroke better than Loibl with an 81. These performances landed the Eagles firmly in fourth place by the end of day one, scoring 333 as a team.
SECOND DAY STRENGTH
The Eagles came out firing on the second day, shooting 22 strokes better than they did on the day one. Loibl led the way this time, hitting an even-par 72, 10 strokes better than her previous effort.
"Jules is a fierce competitor that just never gives up," said head coach Jane Carr in an email. "She plays aggressive golf and plays to win."
Roeske put in a performance that proved nearly just as impressive, scoring a 74. Manalo, the hero on day one, hit nearly just as well on the second day with a score of 81. Her performance ensured that three Eagles finished within the top 10 in the individual leaderboard at the tournament.
Freshman Sophia Karnazes and senior Lauren Van Horn both shot better on the second day as well, putting in scores in the low 80s. It marked Van Horn's last regular season tournament of her college career, and her score on the last day helped launch the team into a podium finish. A team score of 310 bumped Biola up to third place by the end of the contest.
The biggest tournament of the year has yet to arrive for the Eagles, who will travel to Litchfield Park, Ariz. on April 24-25 to participate in the PacWest Conference Championships.