Athlete of the Week: Men's tennis' Quentin Lau
The freshman has shined throughout the week in both singles and doubles competition.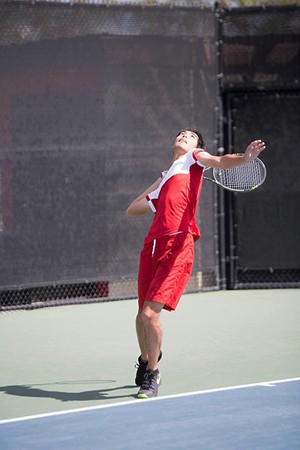 Freshman tennis player Quentin Lau came into the week with back and forth results, much like the rest of the Eagles. However, his performances over the last three matches have seen him deliver consistently for Biola. In a matchup against Westmont College on March 16, Lau battled to win his doubles match 8-6 with senior Philip Westwood. He fell in his singles match, but only on a tiebreaker in the first set before running out of gas to lose the second set 6-1. The Eagles took on Colorado Mesa University on March 17, and Lau and Westwood made quick work of their opponents with an 8-2 victory in doubles, which Lau followed with a 6-1, 7-5 singles win. The two wins would not quite prove enough as the Eagles would fall 5-4 in the match. Lau would help lead the Eagles to break their three match losing streak when he and Westwood combined once again for their third straight doubles win. He would comfortably succeed in his singles duel with a 6-4, 6-2 victory to help the Eagles win 5-4 against Sonoma State University. Lau's impressive performance over the past three matches has played a big part in his team's overall improvement and earned him Chimes' Athlete of the Week.