Women's basketball continues late-season slide
The third installment presents a fun sci-fi thriller muddied by tonal issues and confusing continuity.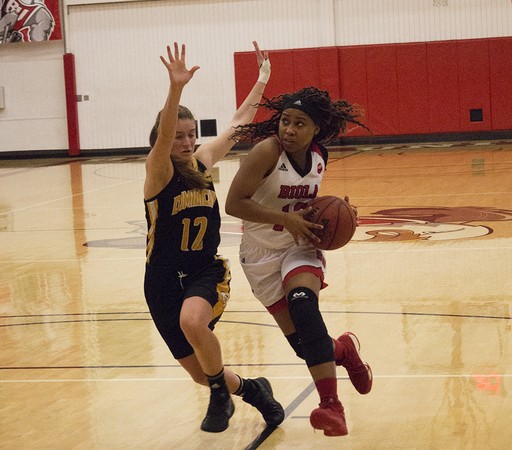 Two days after an ugly blowout loss at California Baptist University, women's basketball returned to Chase Gymnasium to face the Dominican University Penguins in a matchup with huge implications on the Eagles' postseason hopes. The Penguins marched all over the Eagles, handing Biola its third straight loss in the past four games by a score of 77-49.
SLUGGISH START
Dominican wasted no time getting its offense going. The Penguins scored on four of their first five possessions to open the game on a 9-2 run and never looked back from there. A three-pointer from senior guard DeMoria White brought the Eagles' deficit to within four, but that would prove the smallest lead Dominican would have for the remainder of the game. The Penguins immediately responded with a 12-1 run, leading by as many as 15 at one point in the quarter.
The Eagles' defense only got worse in the second period as Dominican quickly turned the game into a rout. By halftime, the Penguins had built a 46-28 lead and two of their players had scored in double figures, while White led all Eagles with just eight points.
EARLY SECOND HALF KNOCKOUT
Any hope that the Eagles would be able to stage a comeback after halftime quickly vanished when Dominican started the third quarter with a 7-0 run before sophomore guard Kayla Macedo finally drained a three-pointer to break the Eagles' three-minute scoring drought. Macedo's shot ended up one of only four made field goals for Biola in the period. Meanwhile, Dominican continued its dominance, leading by 29 points heading into the fourth.
The Penguins emptied their bench in the final 10 minutes, only mustering eight points. By then it was far too late for the Eagles, who only scored nine points themselves before the final buzzer. Four Penguins' players finished with over 10 points while White went scoreless in the second half and still tied sophomore guard Tatum Brimley for Biola's team lead with eight points apiece.
The Eagles' chances of reaching the National Christian College Athletic Association playoffs have been put on life support, and the Point Loma Nazarene University Sea Lions could further diminish those chances when they come to Chase Gymnasium on Feb. 15 at 5:30 p.m.