Annie Park takes on a new role
Annie Park is now helping from the sidelines at women's basketball games.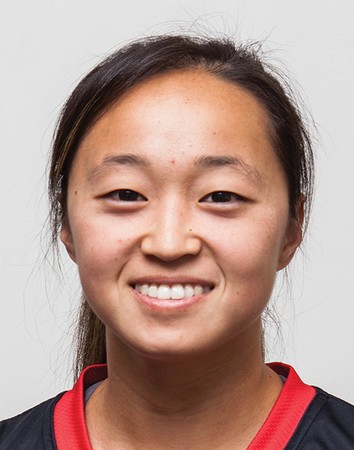 Graduation leaves most former college athletes in the same boat as every other student they graduated with—they have to face the world and choose what path they want to follow. One path available for athletes includes coaching, which is exactly the direction former Biola women's basketball star Annie Park chose when accepting an offer to work as an assistant coach for the team.
"I was asked by [head coach Alan Nakamura] if I wanted to be a part of the staff," Park said. "I thought it would be [a] great experience so I said yes."
EXPERIENCE LEADING ON THE COURT
Park played with the Eagles during the 2014-15 and 2016-17 seasons, and shined in both. She averaged 12.9 points per game, shot 42 percent from behind the arc, almost broke Biola's record for single season three-point makes and has the highest career free throw percentage of any player in the school's history. She became a two-time National Association of Intercollegiate Athletics All-American and was named to the all-Golden State Athletic Conference team twice. She was also honored as the 2016-17 Chimes Women's Athlete of the Year.
"[Having Park as a coach] helps a lot," said senior guard DeMoria White. "It is still fresh for her, so she knows the emotions you feel as a player, she knows the struggle and the battle it is when you're out there on the court. She can relate to us still in a way that our other coaches can't really."
One of the biggest changes for Park is the quick change of roles from player to coach. Within this change she remains surrounded by former teammates, but now acts as a spectator.
"It's hard, because it is fresh," Park said. "I played just last year with the same group of girls. The most difficult thing was when can I be their friend… and when do I have to be their coach."
SUPPORT FROM THE SIDELINES
While she cannot physically take the court during games anymore, that does not hinder Park's level of encouragement and leadership from previous years.
"[Her work with the team] resembles how she was last year as our team captain," White said. "She took a leadership role, got us all in shape, in order and set an example. Even now as an assistant coach she sets an example. She [sets] the bar with how hard we should be working and our attention we should have when practicing. She embodies that ethic."
Park uses her work ethic in a way unique to her. While the other coaches have their roles, she uses her connections with players to make an impact on their play. White and Park have built a special relationship coming up through the team only a year apart. The pair still have the same competitive spirit that led the team to the NAIA National Tournament in 2017.
"[Our relationship] is still the same level of encouragement and support as it was last year when we were playing side by side," White said. "She never doubted me to play my game and do what it takes for the team to win."