Steve Herve sports a different uniform
The sidelined senior shares about his job at Campus Safety.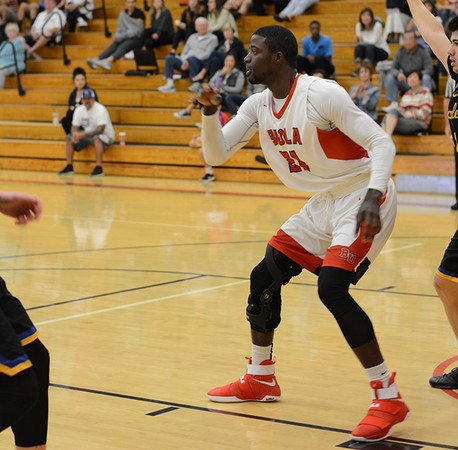 On a sunny afternoon in the Biola Library courtyard, one of the most familiar faces on Biola's campus sits down in a small chair across from a reporter. He might have been slightly less recognizable without either of the two uniforms that he is often seen wearing, but there is no mistaking the powerful frame of senior men's basketball forward Steve Herve, who is listed at 6'7 on the official roster.
Herve spent his first three years at Biola as a rotation player on each of coach Dave Holmquist's teams, including the one that won the Golden State Athletic Conference title in 2016. Even as he sits out this season due to injury before rejoining the team for his final year of eligibility next fall, Herve has become even more well known on campus due to his other big extracurricular role: a Campus Safety employee.
HERVE'S DEDICATION DRAWS NOTICE
With the already hectic schedules that student athletes possess, taking on another big commitment can pose a challenge. However, Herve has two jobs at Campus Safety: patrolling Biola as a cadet and working at the security booth at the main entrance of campus. He does both with the same work ethic and rigorous time management, which has impressed both his teammates on the court and his bosses off it.
"He's been very dedicated and hard-working," said Captain Jason Camorlinga, one of Herve's superiors at Campus Safety. "He's very flexible. When coming to cover shifts that might come up… he follows through."
Senior guard Blake Shannon Jr. came in with Herve their freshman year and has been with him throughout all the highs and lows that the Eagles have experienced over the past several seasons. Herve's ability to take initiative and balance his schedule has not surprised his longtime teammate.
"It speaks a lot to how mature he is and his view on things that he can handle all those things at once," Shannon said.
BALANCING A BUSY SCHEDULE
Herve does not seem bothered by the massive commitment even when he frequently works graveyard shifts. He loves his job and claims it has grown him as a person through hard work and determination in more ways than he can count. He especially enjoys the aspect of it that first piqued his interest in applying.
"You get to know people [through] working for Campus Safety," Herve said. "You have to meet people all around, talk to people. I'm a person who likes to meet new people, I'm really open."
Even so, Herve readily acknowledges his schedule's difficulty and his need to be very intentional with every bit of his time.
"If I have five minutes to hang out with my friends, I have to respect those five minutes," Herve said. "If I have an hour and a half to do homework, I have to do homework in that hour and a half. If I have to go to work for three hours, I have to go to work and do my job the best for those three hours."
SKILLS FROM BASKETBALL HELP HERVE
Herve also credits his experience on basketball teams for helping develop his relationship-building skills, which has aided him greatly during his time at Campus Safety.
"Being on a basketball team, you get to learn about each person on the team," Herve said. "You get to build different relationships… When I put on my [campus safety] uniform and go to work, I have the same mentality. I go to work, make sure people are comfortable and feel happy to say hi to me… we start building friendships, and at the same time I'm still doing my job and providing services for the people on campus."
Those friendships easily explain why Herve got the biggest cheer of the night when he was introduced at Midnight Madness last fall, despite his injury.
Camorlinga has also noticed ways in which Herve carries a team-first approach from the Eagles to Campus Safety.
"He's always ready to do what is asked of him," Camorlinga said. "The hard work, the work ethic that [Holmquist] drills in his players, that is probably already something that is descriptive of Steve, but that's probably been ingrained as well in being an athlete."
'HE REMINDS ME OF ME' – CHIEF O
Herve's personality, dedication and time management skills have him set up for a bright future, whether that is as a translator for the United Nations—his dream job—or in law enforcement, where Chief John Ojeisekhoba of Campus Safety believes Herve could be successful.
"He thinks ahead and he thinks very, very broadly," Ojeisekhoba said. "He does have a heart for service."
Ojeisekhoba sees a lot of himself in Herve, as both men came to Biola as international students from Africa and worked at Campus Safety as undergraduates. However, Ojeisekhoba concedes one major difference between the two.
"He's better looking!" Ojeisekhoba said. "I don't have a problem saying that, man."
About the Contributor
Austin Green, Managing Editor
Austin Green is a junior journalism major who was first among his friends to predict that LeBron James would sign with the Los Angeles Lakers. When not focused on school or work, he enjoys watching sports, going to the beach or coffee shops, and hanging out with the guys on his dorm floor.

[email protected]



I laughed the first time I heard a former editor-in-chief use the line "once you join the Chimes, you never really leave." Now in my third year here, it turns out...