Athletes of the Week: Women's soccer's Madyson Brown and volleyball's Sierra Bauder
Two junior stars stepped up to help their teams to NCCAA championships.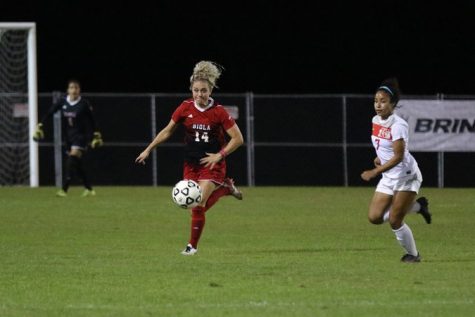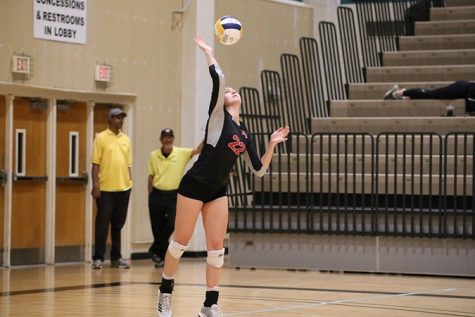 Photos Courtesy of George Rodriguez
Becoming a National Christian College Athletic Association champion is a good way to earn yourself Chimes Athlete of the Week. With the Eagles winning titles in two sports, however, we had a difficult time choosing just one athlete to receive our final AotW award of the semester. Therefore, we have our first co-recipients of the semester, both of whom more than deserve the honor. First up is junior women's soccer defender Madyson Brown. The star defender could have a case for one of the best players in Eagles history if her career ended today—and she still has another year left of eligibility. Brown's habit of coming through in big moments continued in Kissimmee, Fla. this past weekend as she powered an overwhelming Eagles defense that did not allow a single goal throughout the NCCAA tournament. She also scored during the Eagles' opening game in Florida, and was named player of the tournament by the NCCAA for her efforts. Junior volleyball middle blocker Sierra Bauder lost out to senior teammate Tess Van Grouw in the same award for her sport, but the middle blocker's two-way play proved vital to her team's championship run. Bauder averaged roughly 10 kills, one ace and four blocks during the Eagles' time in Kissimmee, including double-digit kill totals in the semifinal and championship games. Bauder has been an overshadowed but key cog in coach Aaron Seltzer's rotation this year, and if her moment in the postseason spotlight is any indication, she could earn a starting role in what should be a deep, loaded Biola volleyball team in 2018.
Brown: 1 goal, 4 shutouts
Bauder: 59 kills, 7 aces, 24 blocks