Women's soccer wins NCCAA championship
The Eagles put the exclamation point on a great season with a dominant national title win.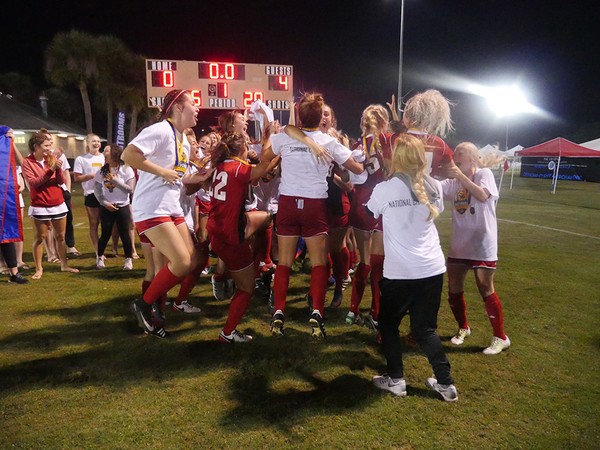 At the beginning of the season, the Eagles knew if they wanted to win a national title, they would have to aim for the National Christian College Athletic Association championship due to their inability to play in the NCAApostseason during their first two years in Division II. The Eagles looked to achieve that goal the NCCAA championship game on Dec. 2. Their opponent was top seeded Indiana Wesleyan University, but the Eagles overwhelmed the Wildcats, winning the championship in a 4-0 blowout.
EAGLES SHOW UP TO THE OCCASION
The match started out with a tentative pace as both teams picked and pried at each other, trying to figure out how to break the other down. The pace of the match changed in the 30th minute when freshman forward Madi DeMetropolis fired in a rebound from a blocked shot to give the Eagles a 1-0 lead. However, the Eagles could not muster any more scoring in the first half.
After halftime, the Eagles aimed to put the game out of reach for the Wildcats. In the 53rd minute, Biola extended their lead thanks to sophomore forward Annmarie Alvarez. Fellow sophomore forward Paula-Marie Labate shot towards the goal, and Alvarez deflected it into the net to give the Eagles a 2-0 lead.
Just 43 seconds later, the Eagles added another goal. Senior forward Samantha Verduzco crossed the ball to senior midfielder Ashley Ramirez who shot the ball over the Wildcats' goalkeeper, putting Biola comfortably ahead 3-0. The big lead made the championship a near certainty, building excitement among the team's bench, coaches and supporters including the Biola women's volleyball squad, fresh off an NCCAA title of their own earlier that day.
After the third goal, the Eagles began to possess the ball and manage the game to the end. With 30 seconds remaining, senior forward Alexis Lee passed across the penalty box where Ramirez smashed the ball into the bottom corner to put the finishing touches on the Eagles win.
A PERFECT END TO A GREAT SEASON
The victory capped off a perfect tournament for Biola, who won all four games and scored 10 goals while allowing none. The Eagles had four players make the team of the tournament: Junior defender Madyson Brown, sophomore defender Colie Martin, sophomore midfielder Hali Oakes and Ramirez. Brown was also named the player of the tournament. The team finishes the season on an eight game shutout streak and a final record of 17-3-2, and a NCCAA national title to wrap up their stellar 2017.