WBB runs into trouble in paradise
The Eagles start their Hawaii trip with a 23-point PacWest loss.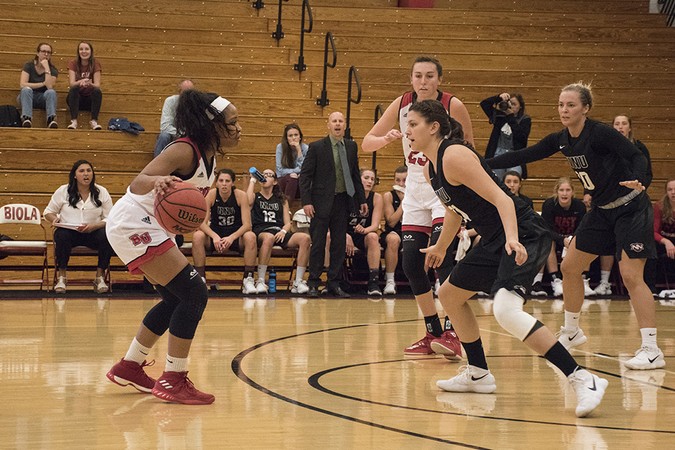 As most Biola students gear up for finals and adjust to colder weather, the women's basketball team headed to Hawaii to start conference play against the Hawaii Pacific University Sharks on Nov. 30. The game marked the Eagles' first PacWest WBB contest since they officially joined the conference earlier this year. Biola's fun in the sun did not translate into success on the court, however, as the Eagles' early season woes continued with an 83-60 loss to HPU.
STRONG FIRST QUARTER GIVES WAY TO DISAPPOINTMENT
The game started out promising enough, with the Eagles rallying to tie the score at 13 in the first quarter. Biola's defense held the Sharks without a point for the final 2:45 of the period, providing the opportunity to erase the deficit on the other end of the floor with a jumper from sophomore guard Tatum Brimley and free throws from freshman forward Jazz Benn and sophomore guard Kayla Macedo.
However, HPU wasted no time rebuilding their lead, scoring eight unanswered points to start the second quarter. Senior guard Demoria White tried to keep her team in the game by scoring nine of her 18 points in the quarter, but the Sharks went on another massive run over the final four and a half minutes to obtain a 14-point lead heading into halftime.
SECOND HALF SOLIDIFIES BLOWOUT
The third quarter only made things tougher for the Eagles, as HPU continued to pour on the punishment and built a 23-point lead. Biola trailed by double digits throughout the second half. The Eagles again recovered for a strong fourth quarter, matching the Sharks' output of 20 points, but it was again far too little and far too late to avoid another loss.
White and Benn tied for the lead in scoring among Eagles with 18 each. Benn also added a team-best six rebounds and two assists. Junior forward Sara Dougan became the only other Eagle to score in double digits with 12 points.
The Eagles drop to 1-4 overall and 0-1 in the PacWest. They have yet to win a road game since moving to the NCAA, but will attempt to change that on Dec. 2 at the University of Hawaii at Hilo.
About the Contributor
Austin Green, Managing Editor
Austin Green is a junior journalism major who was first among his friends to predict that LeBron James would sign with the Los Angeles Lakers. When not focused on school or work, he enjoys watching sports, going to the beach or coffee shops, and hanging out with the guys on his dorm floor.

[email protected]



I laughed the first time I heard a former editor-in-chief use the line "once you join the Chimes, you never really leave." Now in my third year here, it turns out...