Chimes Athlete of the Week: Men's basketball's Trevor Treinen
The junior guard has helped the men's basketball team to four straight wins with his impressive shooting.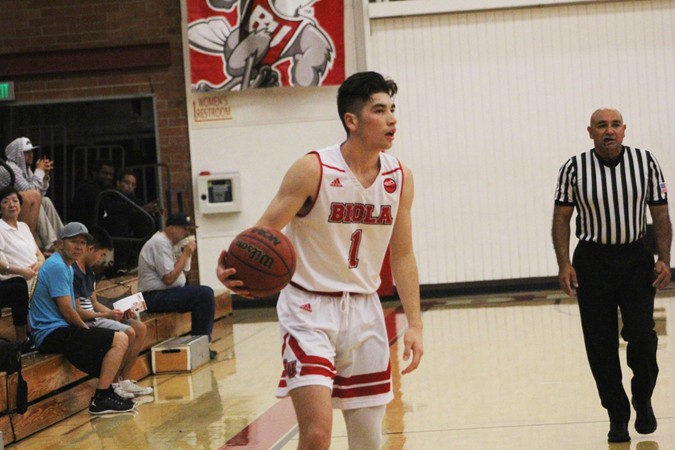 Basketball season has arrived and the Eagles are off to a 5-2 start in non-conference play, thanks in large part to the play of junior shooting guard Trevor Treinen. Treinen started every game for Biola last season, and has taken his play to another level to start 2017-18, pouring in points from beyond the arch at a high level. Treinen has scored 76 points in the Eagles' last four games, including an impressive 28-point effort against Life Pacific College on Nov. 22 in which he hit seven three-pointers. In addition to his impressive shooting, Treinen has snagged 15 rebounds in the last four games and has played exceptional defense. What makes Treinen's play the most impressive is the consistency with which he performs considering how little rest he gets. He has recorded 136 minutes in the last four games as one of the Eagles' primary rotation pieces, and he continues to produce stellar play throughout each game. As Biola heads into PacWest play, look for Treinen to continue to lead the offense with strong shooting from deep. For his exceptional three-point shooting and strong defensive play, Treinen is the Chimes Athlete of the Week.
About the Contributor
Austin Green, Managing Editor
Austin Green is a junior journalism major who was first among his friends to predict that LeBron James would sign with the Los Angeles Lakers. When not focused on school or work, he enjoys watching sports, going to the beach or coffee shops, and hanging out with the guys on his dorm floor.

[email protected]



I laughed the first time I heard a former editor-in-chief use the line "once you join the Chimes, you never really leave." Now in my third year here, it turns out...