Women's soccer successful on day one of nationals
The Eagles picked up where they left off in dominant playoff win.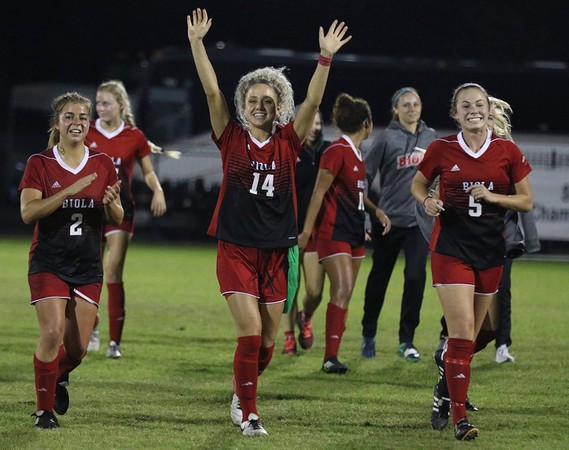 A long season of hard work saw the Eagles reach the National Christian Collegiate Athletic Association tournament in Kissimmee, Fla. on Nov. 27. They began their tournament journey with a pool play matchup against the Emmanuel College Lions. Biola's attack proved too much for the Lions, as the Eagles prevailed 3-0.
GETTING OFF TO A FAST START
The two-week break since their last match could have given the Eagles an excuse if they started slow, but instead they started out as fast as they could have. Sophomore forward Sarah Jeffries created a shooting opportunity, but Lions goalkeeper Marina Eisenhut saved the shot. However, senior midfielder Ashley Ramirez found the rebound and shot the Eagles ahead just 70 seconds in.
Biola continued to put pressure on the Lions, creating multiple corner kick opportunities. One of those opportunities paid off as Ramirez launched the ball into the box where junior defender Madyson Brown controlled it and fired the Eagles to a 2-0 lead within 14 minutes.
Brown's goal prompted two substitutions for the Lions, but they could not find an answer to the Eagles' style of play. Biola continued to get the lionshare of possession and scoring opportunities as the game wore on, despite not scoring again before halftime. The first half ended with the Eagles comfortably ahead and defensively strong as they had not allowed a shot on goal.
The second half brought the same trends of the first half, as Biola had few problems closing out the win. Senior forward Samantha Verduzco created a shooting chance 90 seconds into the half, but Eisenhut saved her shot.
VERDUZCO SCORES INSURANCE GOAL
As time started to wind down in the game, the Eagles earned the last of their six corner kicks in the 87th minute. Ramirez sent it into the box where senior forward Margaret Guadarrama headed the ball to Verduzco who finished the opportunity for her team-leading seventh goal of the season.
The win puts Biola in prime position to advance to the second round of the NCCAA tournament. The Eagles finish pool play against Trinity International University on Nov. 29.