Women's basketball falls in season opener
After an even first half, the Eagles could not keep pace late.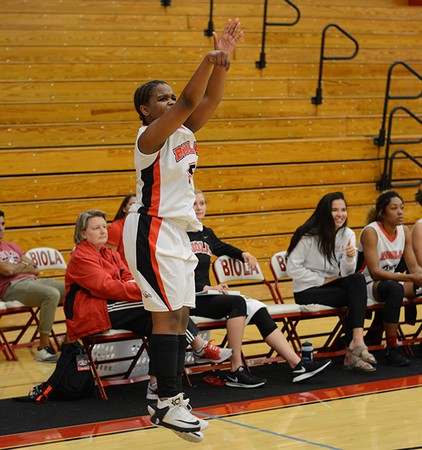 Biola's first NCAA Division II women's basketball game featured a visit to the Cal Poly Pomona Broncos. The Eagles received great production from senior guard Demoria White, who scored 30 points in the game, including 5-11 from the three-point range. However, White's offensive effort was not enough, as the Broncos pulled away in the second half to win 82-64.
AN EVEN START
The Eagles reached 10 points first, but a run by the Broncos would see the hosts leading 20-14 to end the first quarter. The short lead for Biola would be the only time that they were in front for the rest of the game. The first half ended with the close score of 36-34. The Eagles converted four of 10 three-point shot attempts while the Broncos made two of 13, but Cal Poly dominated the rebound battle 26-14 in the half.
The third quarter saw the beginning of the end for the Eagles. The Broncos scored 12 points off five Biola turnovers and outscored the Eagles 26-15 in the quarter. Biola pulled within three points halfway through the third after a three pointer from White, but the Broncos finished the quarter on a 16-6 run to stretch their lead to 13 points.
The Eagles defense suffered once more in the fourth quarter, allowing 16 points in the paint. Cal Poly Pomona would outscore Biola 20-15 in the final quarter to run away with an 82-64 win.
The second half saw the Eagles' shooting dry up, as the team went 3-15 from beyond the arc, while the Broncos would rely on their interior scoring and only attempt five three-pointers in the half. Biola was punished on the boards again as the Broncos grabbed 20 rebounds to the Eagles' 12, including seven offensive rebounds for CPP.
WHITE'S 30 NOT ENOUGH
In the end, White's 30 point night could not carry the Eagles to victory, especially with lack of production from the bench. Biola failed to score any points from bench players in the second half and were outscored 38-12 by Cal Poly Pomona's bench throughout the game. The Eagles were thoroughly outmatched on the interior, as the Broncos won the rebound battle 46-26 and outscored the Eagles in the paint 32-18.
The Eagles will look to bounce back in their home opener against Northwest Nazarene University on Nov. 16 at Chase Gymnasium.