GSPD director leaves after five years of service
Students share ways Stephanie Calley has impacted their time in GSPD.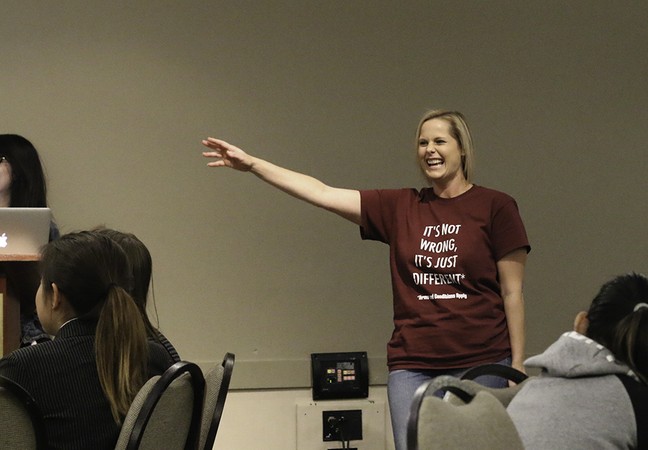 Rebecca Mitchell, Managing Editor
April 18, 2018
"Steph is such a gracious leader that understands that we're all on this journey," said Adeline Ting, Global Students Programming & Developmentadministrative assistant and alumna.
Stephanie Calley, director of GSPD, is leaving her role of five years with a legacy of praise from GSPD students.
"She really like helps me to figure out my strength and my weaknesses," said Suwei Yung, sophomore cinema and media arts major.
Throughout her time, Calley has fostered growth in students. Next fall, Calley will officially transition out of her position while also continuing her Ph.D. program at Biola in intercultural education.
"I also feel like wherever I go in the future I have a much better perspective on how to encourage people to bring who they are and to not minimize who God has made them to be. I hope that that translates into me being able to be a light in dark places," Calley said. "I feel like the students have taught me that so much."
TRANSITIONS IN GSPD
Although Calley felt the Lord specifically spoke to her in February or March about a new season, the three graduate assistants stepping in next year have been trained for at least a year, according to Calley. The graduate assistants—Ph.D. student EK Park, senior psychology major Athaliah Sigamoney and senior studio arts major Laura Webster—will play the role of coordinators and student care. With their deep understanding of the program, Calley believes GSPD will run well without her.
While Calley transitions out of the program, students shared what they have learned from her including leadership skills, being an encouragement and simply getting to know others. Atalyia received mentorship and wisdom in many different areas, including conflict resolution.
"Honestly, Steph has been the voice of reason a lot of times, and I think that part of leading an intercultural team is that there's often a lot of conflict and a lot of having to work through those differences and understanding how they are to be celebrated and also how they affected the way we work," Sigamoney said.
LESSONS FROM CALLEY
Sophomore kinesiology major Maureka Santos also sees Calley's strengths in the way she interacts with students.
"The interactions that I have had, the way that she sees people's strengths is so amazing, like something that I wish I could do better," Santos said. "And the way that she encourages people and she has fun with them and she jokes around with them, but it's also very serious in the sense that she truly cares for these people."
With Calley's personal interaction style ranging from fun to serious, students, including sophomore biochemistry major Boyden Myers, have also been able to get to know her on a personal level.
"I kind of view her as like an aunt figure because she's there whenever we, I would need her," Myers said. "I have met up with her a few times and was just able to just talk through some things I've been going through. She's just really intentional about getting to know us and just being there."