Flu season hits rampantly in California
Campus fills with people of color through the faces of young students.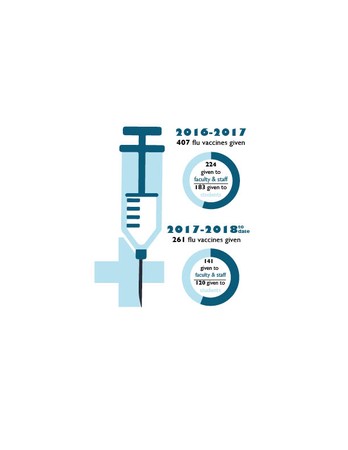 With the flu spreading widely across the United States, the Health Center has found new ways to educate and continue caring for students.
FLU EDUCATION
The difference with this season's flu comes because of an early peak and an unexpected strain, H3N2, according to the Los Angeles Times. With these changes the infection rates have climbed to numbers only matched by those in 2009, according to the New York Times.
At the beginning of last semester the Health Center began sharing information, including distributing flyers with Resident Directors to post in their halls and during a parent panel in August, according to interim Health Center director and nurse practitioner Sarah Templeton.
The Health Center began offering flu shots to students, staff and faculty in October, and while Templeton did not see a spike in the number of students coming in to receive the flu shot, the number of students returning from break with the flu increased.
"Biola employees are offered flu shot as well and it's covered by HR, so that's an incentive to help try to keep the campus… healthy as well," Templeton said.
Besides offering the flu shot, the Health Center also offers a 15 minute test with results available the same day to evaluate if students have the flu and would benefit from the medicine Tamiflu, according to Templeton. Across California, Tamiflu ran out in several pharmacies and limited the number of patients who were able to receive the medicine, according to the Los Angeles Times.
STUDENTS FEEL EFFECT OF FLU
While the Health Center has worked to prepare students for the flu season, students were not exempt from the nationwide sickness. Last week, almost the entire softball team found themselves with flu, including undeclared freshman Kylie Velasco. Velasco shared how having the flu affected her missing one of the first few games.
"It hurt… especially because coming my freshman year I'm trying to, like, be our starting second baseman with an open position, so that was really rough missing an opportunity," Velasco said. "But I wasn't able to show up to the game, like coach told me to stay in my room, get some rest, but I was still on my laptop watching them online, just whatever I could to cheer them on."
For the remainder of the flu season, Templeton expects a steady flow of patients and recommends students to remain out of large exposure areas.
"I would just encourage to avoid… large exposure areas places like Disneyland, which is unfortunate, urgent cares, that type of thing where there's a big potential for exposure," Templeton said.