Women's soccer dominates in victory
The Eagles earned their first away PacWest victory in a 3-0 victory over Academy of Art University.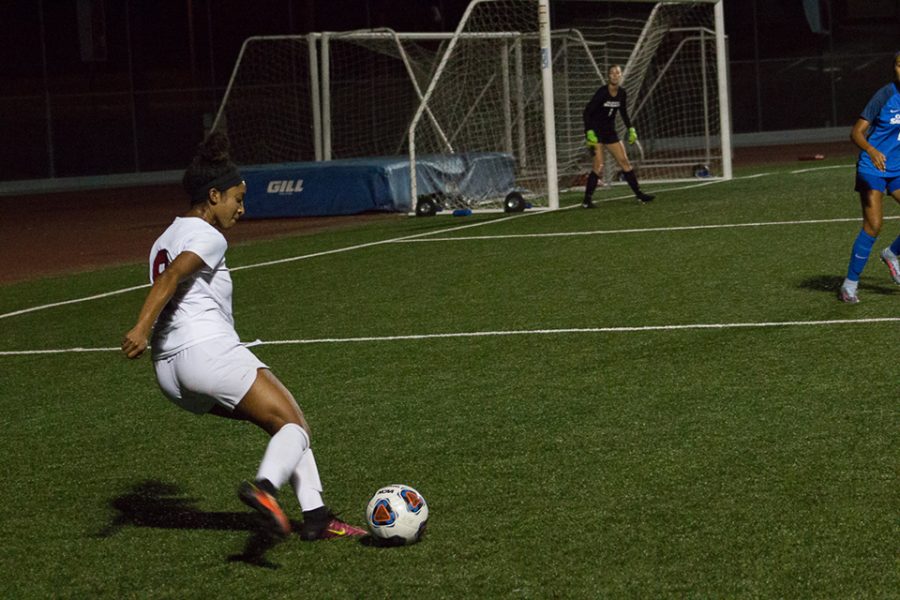 Carter Baumgartner, Writer
November 7, 2017
As they near the end of their first year in NCAA Division II, women's soccer faced the Academy of Art University Urban Knights to start a two-match road trip to the Bay Area that will close out the regular season. The meeting provided a key opportunity to earn their first ever PacWest road victory. After getting shut out in the first half, Biola punished the Urban Knights' mistakes to win 3-0.
RELENTLESS PRESSURE
The Eagles started the match at a fast pace, firing off three shots in the first 10 minutes. The visitors continued to put the pressure on the Urban Knights' defense, but could not find a breakthrough goal, even though Biola outshot their opponents 12 to 0 in the first half.
After the resilience of the Urban Knights for the entire first half, a defensive error gifted the Eagles the opening goal. A poor goal kick from Urban Knights goalkeeper Morgan Wirz fell right to the feet of sophomore forward Annmarie Alvarez, who chipped Wirz to make it 1-0.
The Eagles continued to press for another goal, but could not break through the Urban Knights' defense. A free kick for Biola in the 89th minute gave the Eagles an opportunity to seal the victory. Senior forward Samantha Verduzco passed the ball to senior midfielder Ashley Ramirez, who fired the ball into the top corner to give her team the win.
With 30 seconds left in the match, Verduzco capitalized on a mistake from the Urban Knights and bagged her team-leading seventh goal of the season. Her shot deflected past the keeper to put an exclamation mark on the match, making it 3-0.
STATISTICAL DOMINANCE
The stats reflect the absolute dominance of the Eagles, who lead 23-1 in shots, 10-0 in shots on goal and 13-0 in corner kicks. Sophomore goalkeeper Christina Rodriguez might as well have taken the day off with her defense stopping any shots that needed saving.
With the victory, the Eagles move to 11-3-2 on the season (7-3-2 in the PacWest) and into fifth place in conference. They need to hold or improve upon their conference position to qualify for the postseason, but they will also need some help from other teams.
The Eagles need to win their final match against last-place Holy Names University on Nov. 4 to stand a chance of finishing fifth or higher. Concordia University Irvine tied against Notre Dame de Namur on Nov. 2, meaning if Concordia draws or loses either of their last two matches, Biola will qualify with a win. Azusa Pacific University can help out the Eagles by beating or drawing with Dixie State University on Nov. 4, which will allow Biola to finish fifth with a win in their final match.