Biolans remember grad who helped launch CSP
Friends say Justin Key's short life was marked by warmth, vivacity and selflessness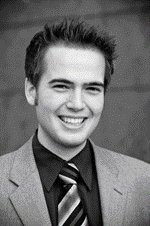 The Biola community lost a light when Justin Key, an '06 graduate who helped develop and lead the Biola Chapter of the California School Project, died Monday, Dec. 14, after being hospitalized for a severe case of the flu, according to a note from his father.
Brian Key, Justin's father, noted that an "underlying and unknown medical condition" escalated the illness, and the younger Key eventually died from a blood clot in his lung at the age of 26. Key, who also leaves behind his mother, Susan, was working toward his MBA at the University of Virginia's Darden Business School. At Biola, the business major devoted much of his time to praying for and mentoring high schoolers, preparing training curriculum for ministry, and preaching through CSP, a Whittier-based program that equips high schoolers to evangelize their campuses for Christ.
"It wasn't a job," said Kellee Thompson ('07), a staff member with CSP who worked closely with Key. "It was a calling. He loved people, and that was clear."
Thompson said Key was responsible for helping grow CSP into what it is today. The organization, in its infancy when Key arrived, now ministers to about 20 schools in the greater L.A. area, which has the second-highest density student population in the United States, according to the organization's site. In his first year with CSP alone, Key helped recruit 40 students to mentor local high schools' Christian clubs, organized a sports outreach at Biola and helped host a Billy Graham Witnessing day for 80 high schoolers. Key's weekly leadership development meetings for high schoolers were popular, too, Thompson said.
"There was just something about him that made students flock to him," she said.
Barbara Miller, director of Spiritual Life, vividly recalled watching Key preach with "fervor" and "conviction" to a crowd of about 200 students at La Serna High School in Whittier and thinking the power of the Holy Spirit was upon him.
But Key didn't just shine from the stage.
"He would give kids rides home in his purplish car and make a point of drawing out the introverted ones with his jokes, radiant smiles and bear hugs," recalled Gail Patches ('09), a close friend of Key through CSP.
Those close to him said Key's life was characterized by a unique paradox of humor and intelligence.
"Justin was the kind of guy you'd be joking around with one second, and be floored, shaking your head the next second with something profound that he said," Patches wrote.
A Torrey Honors student, Key astounded professors and peers alike with his insight.
"He didn't know what to do with his own brilliance," Miller said.
Key planned ahead, launched interactive student discussion, and delved into the complex topic at hand, said Fred Sanders, associate professor of theology in the Torrey Honors Institute. But he was always able to step back from intense discussion to make sure the topic mattered or insert his sense of humor.
"We were all in over our heads talking about deep stuff, and he had a winsome manner about him that enabled him to sort of take a fun shot at somebody and have them receive it well," Sanders said.
Friends say Key lived his short life to the fullest, as not only his ministry, but his world travels, evidenced. Between graduating from Biola and attending business school in Virginia, Key traveled to, among other places, Ireland, France, Nambia, Malawi, Mexico, Spain, England and Scotland.
"He was full of life," Thompson said. "Everything was an adventure."
Many can't help but wonder why a man so full of life was taken so soon.
"I just thought, 'That guy has so much promise,'" Miller said. "And I just remember asking God just to bless His future. And I think that's what I'm having a hard time dealing with now, because he was so sold out for Christ and the Gospel … With Justin, I remember thinking [of] the impact he was going to have over time."
A memorial service was held for Key Sunday in Bellevue, Washington.
Key's father wrote this about his son:
"Justin was an avid follower of Jesus Christ, and we know he is safely in his Savior's care," he noted. "We are doing our best to deal with this profound loss, and so appreciate your prayers and expressions of support for us. What we want most right now is to honor who Justin was, and the amazing experiences he boldly packed into his 26 years."
Thompson, while saddened by Key's passing, was encouraged that his death points people toward the source of his passion — Jesus Christ.
Miller, who has worked with students in the Spiritual Life office for 15 years, said she won't forget Key.
"He packed so much into that short life," she said. "Some kids just shine. And he shined."
Donations in remembrance of Key can be made to either of his favorite charities: Compassion International or World Vision International.