UCLA student comments on recent protests
Josh Morrison, a junior at UCLA, watched students throw sticks, water bottles and rocks at police last week in protest of a $2,500, or 32 percent, tuition hike.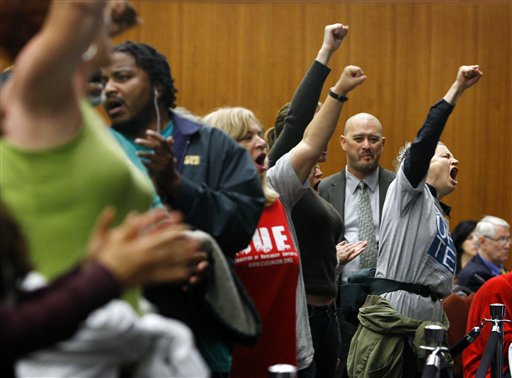 Josh Morrison, a junior at UCLA, watched students throw sticks, water bottles and rocks at police last week in protest of a $2,500, or 32 percent, tuition hike.
UC students have been protesting against the raise since the University of California Board of Regents held a conference at UCLA last week, and later approved the hike.
Students will now pay more than $10,000 in tuition per year. While this figure is still about $16,000 less than Biola students pay, it's about three times the amount it was a decade ago for UC students, according to New York Times columnist and UCLA alum Jack Kadden.
Morrison said many of the students "went to a stupid extreme and displaced their anger."
Those who will be most affected are middle class families, he said. Morrison, a junior global studies major, explained his perspective as an onlooker at the protests. He said those whose families earn under $50,000 a year are covered by federal aid. With the increase of tuition, the cap for aid will be raised to $70,000, allowing lower class families the same amount of federal coverage. Morrison said students from middle class families like his who don't receive federal aid will take the hit the hardest.
Many of the protestors, however, were from those families who will continue to receive financial aid from the government. From Morrison's perspective, very few students from the upper and middle classes showed up to protest, though they will feel the bulk of increased tuition. Furthermore, the federal money used to aid those students will be taken from taxes, which all Americans in the upper and middle classes must pay.
Two of Morrison's classmates have possibly been arrested, according to his Chicano studies professor, along with 12 other demonstrators. The individuals were arrested for disrupting the Regents' meeting, according to the NY Times. The Regents allowed 50 students to share opinions with them during the meeting, but some told Morrison that the Board had refused to take them seriously, laughing instead of listening.
Morrison said the Regents decided to host this conference at UCLA because it has been known to be less disruptive than other UCs.
Faculty and students from other UCs caught on to the scheme and transferred busloads of individuals onto UCLA's premises. UC Berkeley sent at least two busloads of faculty and students, with large numbers from UC Santa Cruz, Irvine and San Diego.
Students took over UCLA's Campbell Hall for about 24 hours. They spent Wednesday night there while others, according to the NY Times, slept in tent cities across campus.
Faculty members protested last week too, said Morrison, since they are now required to take a certain number of unpaid furlough days as a part of the bill. A math professor at Cal State Long Beach, for example, has had to cancel one of his classes, decreasing his salary by 20 percent, and take two unpaid furlough days each month, according to the Los Angeles Times.
The UC system, which had a Sunday deadline for fall 2010 applications, is being forced to cut enrollment by 40,000 over the next two years, the LA Times also reported.