Death of ND softball player unites Biolan with old friends
Biola junior Carizza Sioco was friends with one of the three North Dakota softball players that was found dead in a pond last week.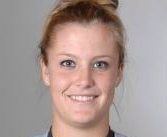 When junior Carizza Sioco's friend Afton Williamson went missing in North Dakota, along with two other college softball players, Sioco hoped it was just because they wanted to get away for a weekend of fun without telling anyone. But in class last week, she got the text message — Williamson and her friends were found dead in a pond.
Williamson, 20, along with 22-year-old Kyrstin Gemar of San Diego and 21-year-old Ashley Neufeld of Brandon, Manitoba, all softball players at Dickinson State University, were found underwater in a 1997 Jeep Cherokee last week, the Associated Press reported. The students were on a stargazing trip when two friends of theirs received calls for help made from cell phones before lines went dead.
Sioco attended high school with Williamson at Paloma Valley High School in Menifee, Calif. They had classes together. They rode together in the same limo to senior prom. And now, she was gone. The only good that has come out of the tragedy has been the opportunity to reconnect with old friends from high school, Sioco said.
"I haven't talked to so many people from high school in the past two-and-a-half years as I have in the past week," she said. "It's really sad that something like this has to bring us together, but it's really nice that we can come together and just share — the grief and also the good memories."
Sioco described her athletic friend's personality as quiet and happy.
"I read a few articles that said she was going through hard family times, but she never seemed like she was going through hard times," Sioco said. "She was always really happy."
Sioco plans to attend the memorial service Friday.
Authorities have cited drowning as the likely cause of the students' death. Investigators believe the students likely drove into the pond accidentally in the darkness and became trapped inside the vehicle, according to the Associated Press. A complete autopsy report isn't due for about another week. It is unknown now whether alcohol was involved.
The tragedy reminded Sioco of the preciousness and brevity of life.
"We get so caught up in classes … and everything," she said. "You don't know what suffering is until you go through it. And what I feel is nothing compared to what her parents feel."
Through the pain, however, Sioco hoped to shine the light of Christ to her peers from high school, who are desperately searching for answers.
Sioco didn't know if Williamson had faith in Christ, something she found unsettling.
"Was it my responsibility?" she probed. "Do I feel guilt? Not really a guilt, but just, that's also a reminder to just share when you can. Those opportunities can be taken away."