3 ND college students found dead in pond
Three missing North Dakota college softball players were found dead Tuesday in a Jeep pulled from a pond.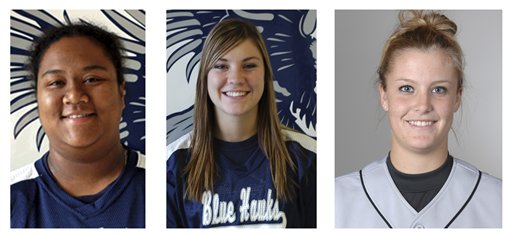 DICKINSON, N.D. (AP) — Three missing North Dakota college softball players were found dead Tuesday in a Jeep pulled from a pond, and police said they believed the women were in the vehicle when they made two desperate calls to friends for help.
Police Lt. Rod Banyai said officers are investigating the cause of the deaths and autopsies are planned. He said he believes the women were in the Jeep when they called for help, but he didn't know whether it already was under water when those calls were made.
"At this time, foul play is not suspected," Banyai said Tuesday night.
Authorities had been searching since late Sunday night for Kyrstin Gemar, 22, of San Diego; Afton Williamson, 20, of Lake Elsinore, Calif.; and Ashley Neufeld, 21, of Brandon, Manitoba.
The Dickinson State University students were believed to be in the white 1997 Jeep Cherokee with California plates when two of their friends received telephone calls before the lines went dead. Police described the first as a "very scratchy" call for help in which one of the women said they were near a lake and water.
Banyai said the 12-foot deep pond where the women were found is on a farm northwest of Dickinson, a city of 16,000 people about 100 miles west of Bismarck and 60 miles east of the Montana state line. Vehicle tracks were found leading into the pond Tuesday afternoon, he said.
"After that was located, the plane flew over the top and it could see that there was a white object in the water," Banyai said. The submerged vehicle was pulled from the pond about two hours later.
Banyai said the vehicle will be checked for defects. He said authorities don't know how it got into the pond.
Kyrstin Gemar's parents, Lenny and Claire, said during an earlier news conference at police headquarters, before the bodies were found, that they had talked to their daughter late Saturday night. Lenny Gemar said it was not uncommon for his daughter and her friends to go star gazing on the spur of the moment.
The women's families were not at the news conference where police announced the deaths.
Students at Dickinson State, where the women were stars on the school's softball team, led a prayer service Monday night that drew more than 300 people. Another service was scheduled at the 2,700-student school for Tuesday night.
"We are very deeply saddened by this turn of events and we are going to mobilize all of our resources to work with the families and the students on campus," Dickinson State spokeswoman Constance Walter said. "They will be greatly missed by their teammates and others."
The college lists Gemar as a senior business major who played third base on the softball team. Neufeld is a senior outfielder who is working on a degree in psychology, and Williamson, a junior, is a pitcher majoring in psychology with a minor in coaching.
Gov. John Hoeven issued a statement extending sympathy to the families and appreciation to those who participated in the search, "which ended in a way we all prayed it wouldn't."