Governor, lawmakers push for water deal
Lawmakers are trying to draft a plan to upgrade California's water system, which is failing to provide for farmers, cities and wildlife.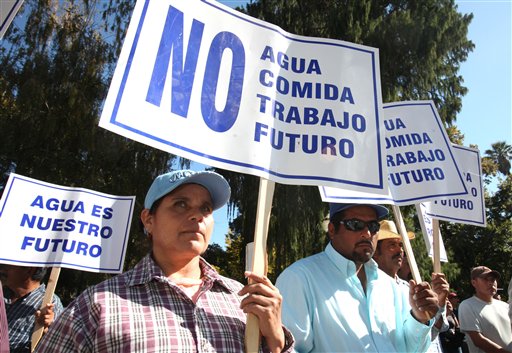 SACRAMENTO, Calif. (AP) — California lawmakers on Saturday planned to resume negotiations on a deal to upgrade the state's decades-old water system, a day after talks broke up with about a dozen issues yet to be resolved.
Gov. Arnold Schwarzenegger had said Friday that legislators were on the verge of a historic breakthrough on water, but talks broke up with about a dozens issues yet to be resolved.
Lawmakers are trying to draft a plan to upgrade California's water system, which is failing to provide for farmers, cities and wildlife.
Senate President Pro Tem Darrell Steinberg, D-Sacramento, said lawmakers needed a little more time to work on a complicated task that has eluded Sacramento for decades.
"When you're making important law and you're trying to change three decades of inaction sometimes it takes an extra day or two," Steinberg said. "As long as it's productive, which it is, I don't think that's a big deal."
Earlier this week, Schwarzenegger had threatened to veto "a lot" of bills unless lawmakers agreed to a comprehensive water deal. The governor has until midnight Sunday to sign or veto about 700 bills, but Schwarzenegger on Friday said he was tired of waiting and a water deal would happen by the end of the day.
After the talks ended Friday, Schwarzenegger spokesman Aaron McLear said the governor felt lawmakers had made good progress and suggested Schwarzenegger might be willing to rethink his veto threat.
"If we're far enough along on a water deal, and he feels confident that we're in a good place, it's far less likely that we do the vetoes," McLear said.
Upgrading the water system is a top priority for Schwarzenegger, who is heading into his last year in office and wants to count a water deal as part of his legacy.
The state's network of reservoirs and canals dates to the term of Gov. Pat Brown in the 1960s. Schwarzenegger and many others have said the system is inadequate for today's population and the millions of people likely to be added in the years ahead.
Three years of dry weather have left many Central Valley farmers and cities around the state short of water. Supplies also have been cut back by federal pumping restrictions to protect a collapsing ecosystem in the Sacramento-San Joaquin Delta, the water conduit for two-thirds of the state's residents.
Last month, Democrats presented a $12 billion package that sought to improve how water is used, delivered and stored in California. It died after Republicans complained that it failed to provide assurances that dams would be built, a key demand of the governor and GOP lawmakers.
Lawmakers of both parties have also questioned whether the state could afford to issue billions of dollars in bonds. Senate Minority Leader Dennis Hollingsworth, R-Murrieta, has said lawmakers are now considering a smaller bond between $8 billion and $10 billion, although many of the details are still being worked out.
A water deal that includes a bond requires a two-thirds vote in the Legislature, and thus needs at least some support from Republicans, the minority party. Bills dealing only with policy issues can pass with a simple majority vote.
Assembly Minority Leader Sam Blakeslee, R-San Luis Obispo, said lawmakers were hoping to find a middle ground on about a dozen major items.
Those include disagreements over protection of water rights, mandatory conservation standards for cities, groundwater monitoring of private water supplies, who should make water decisions in the delta and how to pay for the infrastructure and restoration efforts requested by lawmakers.