Firefighters wage war on Angeles Forest wildfires
A growing wildfire sending massive billows of smoke into the sky north of Los Angeles nearly tripled in size Saturday, injuring three residents, burning a small number of homes, knocking out power to many more and prompting evacuations in a number of mountain communities.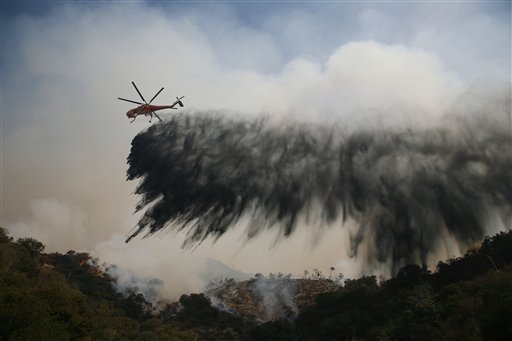 LOS ANGELES (AP) — A growing wildfire sending massive billows of smoke into the sky north of Los Angeles nearly tripled in size Saturday, injuring three residents, burning a small number of homes, knocking out power to many more and prompting evacuations in a number of mountain communities.
Mandatory evacuations were extended Saturday into neighborhoods in the canyons on the northwestern edge of Altadena, Glendale, La Crescenta and Big Tujunga Canyon, Forest Service spokesman Bruce Quintelier said. It was unclear how many residents were ordered to leave.
The flames crept lower down the slopes of the San Gabriel Mountains despite winds blowing predominantly in the other direction, threatening more than 2,000 homes in the La Canada Flintridge area. At least 150 homes were under mandatory evacuation orders there.
A few homes and about 25 recreational cabins have burned but exact numbers were not immediately available, said Forest Service spokesman Gabriel Alvarez.
An evacuation center was set up at La Canada High School and Jackson Elementary School in Altadena.
Flames knocked out power to at least 164 residences in La Canada Flintridge Saturday afternoon, according to Southern California Edison. Repair crews were ordered to stay out of the area because of fire danger.
More than 31 square miles of dry forest was scorched by the fire, which continued to move out in all directions, the most active flanks to the north, deeper into the forest, and east, Quintelier said. The blaze was only 5 percent contained.
At least three residents of Big Tujunga Canyon were burned and airlifted to local hospitals, Quintelier said. The details of their injuries were unknown.
Air crews waged a fierce late afternoon battle against the southeast corner of the fire, burning dangerously close to canyon homes. Spotter planes with tankers on their tails dove well below ridge lines to lay bright orange retardant then pulled up dramatically over neighborhoods, and giant sky crane helicopters swooped in to unleash showers on the biggest flareups.
The amount of smoke was hampering air operations in some areas, officials said.
"It's difficult for water-dropping aircraft to get in there, but they're still trying," Forest Service spokeswoman Jessica Luna said.
The fire was burning in steep wooded hills adjacent to NASA's Jet Propulsion Laboratory in northern Pasadena. Nearby, Dawn James, 39, a physical therapist, and friend Leah Evans, 39, watched flames roil on the mountainsides from an equestrian park where they had brought two horses from their stables. James lives in the area and her husband stayed up at the house while she watched the horses.
"We always knew it could come. We knew it was a possibility," James said.
Evans said she watched the flames spread as she spent the night in her pickup truck near her horses.
"Through the night, you kind of watch it diminish, and then flare up," said Evans. "It's just amazing to watch, kind of unbelievable."
In La Vina, a gated community of luxury homes in the Altadena area, a small group of residents stood at the end of a cul-de-sac on the lip of a canyon and watched aircraft battle flames trying to cross the ridge on the far side.
At one point, the flying circus of relatively small propellor-driven tankers gave way to the sight of a giant DC-10 jumbo jet unleashing0 a rain of red retardant.
"We see a drop, we give a big cheer," said Gary Blackwood, who works on telescope technology at the Jet Propulsion Laboratory. "We've watched it now for two days hop one ridge at a time and now it's like we're the next ridge."
A major goal was to keep the fire from spreading up Mount Wilson, where many of the region's broadcast and communications antennas and the historic Mount Wilson Observatory are located, officials said.
A thick layer of smoke hovered over the Los Angeles Basin and San Fernando Valley, and officials issued a smoke advisory for communities near the fire. Residents were urged to avoid exertion and seek air-conditioned shelter.
A second fire in the Angeles National Forest was burning several miles to the east in a canyon above the city of Azusa. The 3.4-square-mile blaze, which started Tuesday afternoon, was 85 percent contained Saturday. No homes were threatened, and full containment was expected by Monday.
A wildfire on the Palos Verdes Peninsula on the south Los Angeles County coast was 100 percent contained Saturday afternoon, according to county fire officials. As many as 1,500 people were forced to flee at the height of the fire Thursday night. Six homes received minor exterior damage, but the only structures destroyed were an outbuilding and gazebo. No injuries were reported.
Southeast of Los Angeles in Riverside County, a 3½-square-mile fire in a rural area of the San Bernardino National Forest was 10 percent contained.
Crews aided by aircraft were working to build a line around the fire, which was burning in steep, rocky terrain in Beeb Canyon, according to Forest Service spokeswoman Norma Bailey. No structures were threatened. Temperatures were expected to top 100 degrees in the region, but winds remained light.
To the north, in the state's coastal midsection, a 9.4-square-mile fire threatening Pinnacles National Monument kept 100 homes under evacuation orders near the Monterey County town of Soledad. The blaze, 60 percent contained, was started by agricultural fireworks used to scare animals away from crops. The fire destroyed one home.
In the southern part of Monterey County, firefighters had 100 percent containment of a 5¼-square-mile fire that had threatened 20 ranch homes.
Gov. Arnold Schwarzenegger declared a state of emergency Friday in Los Angeles and Monterey counties.
"It's fire season, clearly," he said. "There's tremendous amount of heat all over the state."
A state of emergency was declared Saturday for Mariposa County, where a nearly 5.5-square-mile fire burned in Yosemite National Park. The blaze was 30 percent contained, park officials said. No structures were threatened.
Park officials closed a campground and a portion of Highway 120, anticipating that the fire would spread north toward Tioga Road, the highest elevation route through the Sierra. The number of firefighters was expected to double over the weekend to 1,000.
The Mariposa County Sheriff's Office ordered guests and staff at the Yosemite View Lodge, in the town of El Portal just outside the park's western gate, to evacuate Friday due to the fire.
The evacuation was broadened later Friday to include the eastern part of El Portal, with about 100 residents leaving their homes, said Brad Aborn, chairman of Mariposa's Board of Supervisors. He said the remainder of the town, an estimated 75 people, were evacuated Saturday morning.
People without lodging were offered beds in a shelter in Mariposa staffed by the Red Cross.
"I went over and visited. … Only one spent the night," Aborn said. "They're probably staying with friends."
---
Associated Press Writer John Antczak in Los Angeles contributed to this report.