Students encounter assault suspect
Campus Safety captures assailant after students spot him loitering around dorms.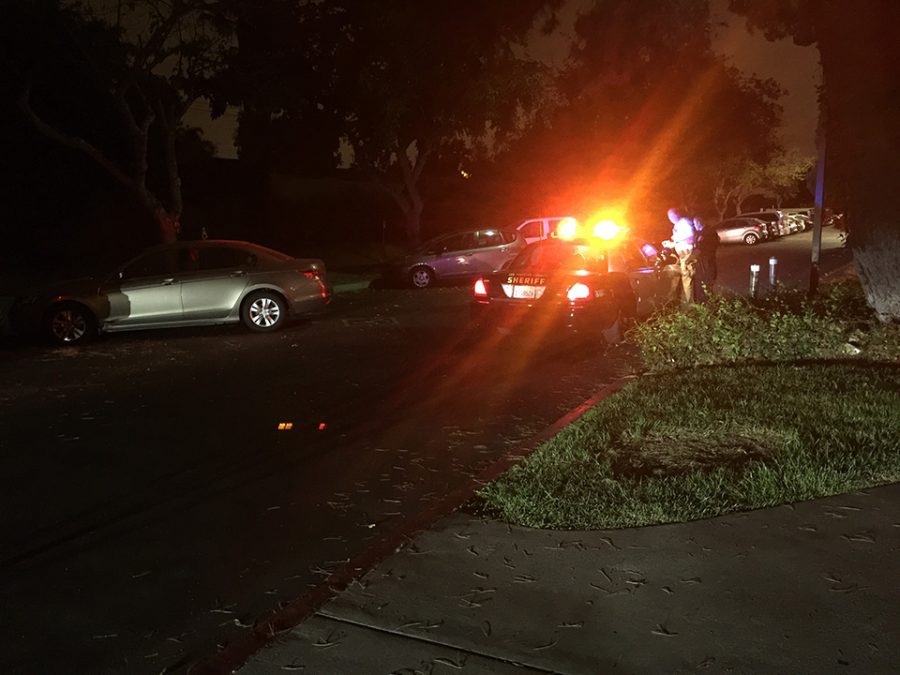 Several students reported interacting with the perpetrator on lower campus before Campus Safety apprehended him on Sunday.
MEETING THE SUSPECT
Campus Safety received a report over the police scanner from the Los Angeles Sheriff's Department of an individual who committed an assault in the area near Roma Drive and Whiterock Drive, streets adjacent to lower campus. Campus Safety sent out an emergency alert to the Biola community, and due to a miscommunication initially warned the suspect had a gun at approximately 7:42 p.m. However, subsequent alerts confirmed the suspect did not possess a weapon. Officers arrested the suspect at approximately 7:50 p.m.
Due to a Campus Safety mistake in copying the message in the first email alert, the text alert contained the words "area/building" in place of "Hart Hall," causing some students to believe the alert was a template sent in error. Campus Safety plans to remedy the system so the same mistake does not reoccur, according to Chief John Ojeisekhoba of Campus Safety.
The suspect entered campus by jumping the wall behind Hart Hall and running to Stewart Hall. While in Stewart, the suspect passed sophomore environmental science major Alexis Garcia's open door. Garcia was preparing to leave her room for Singspiration when the man backtracked to her room and stood in front of her door. Then, Garcia noticed the blood dripping from the man's hands onto the floor.
"I knew I couldn't freak out, because I know in moments of panic when adrenaline is high, people can do really stupid things, and I didn't want to be one of those people," Garcia said. "I wanted to make a very discreet and wise decision in the moment so I knew that every movement, every word that I was speaking to him counted, because who knows what he could have done?"
The suspect asked Garcia if he could enter her room. When she refused, he requested a rag to wipe his hands with. Garcia offered to take him to the Stewart lobby, where she knew other students could help her. The man began to step back, giving Garcia the opportunity she needed to run to the lobby. When she returned with a group of students, the man was gone. They then contacted Campus Safety.
"When a shooting situation does happen, [students should] make sure they follow instructions given to them," Ojeisekhoba said. "I hope this never happens on our campus again."
Campus Safety officers arrived at lower campus and apprehended the suspect, who did not resist arrest. They also apprehended an individual between Hart and Stewart for possession of methamphetamine. Campus Safety does not believe the two incidents are related. Both suspects currently remain in the custody of the LASD.
A FIGURE AT THE WINDOW
Other students also encountered the suspect. While moving toward Stewart, he stopped at Hart in an attempt to communicate with senior kinesiology major Kenton Tom.
"I was just eating dinner in my room and then I turned to put something down and there was this guy standing outside my window," Tom said. "And he was beckoning me and telling me to come closer."
Tom and his girlfriend, who was with him, did not approach. After a brief period of time, the suspect departed from the window and continued toward Stewart, where he spoke with Garcia.
Garcia processed the trauma of her experience with the help of other students and by spending time in prayer.
"I was able to thank God for protecting me," Garcia said. "I don't want to walk in fear now, after this happened. I still want to be a strong person and learn from that… I want to be on guard and ensure that I'm walking wisely and aware of my surroundings, because as much as Biola is a very safe campus, it's not completely guaranteed."
About the Writer
Christian Leonard, Editor-in-Chief
Christian Leonard is a junior journalism major whose affinity for chickens is really getting out of hand. He can often be found singing in the office, wrapped around a book, or arguing for the classification of cereal as a soup.

[email protected]



I came to Biola a nervous freshman, not really sure what I wanted to do during my time at university. Years of prayer and waiting seemed fruitless, until an academic counselor recommended I contact the Chimes, since I had shown a...