Ryan Kauth takes command
Biola's interim swim and dive coach begins to make a difference.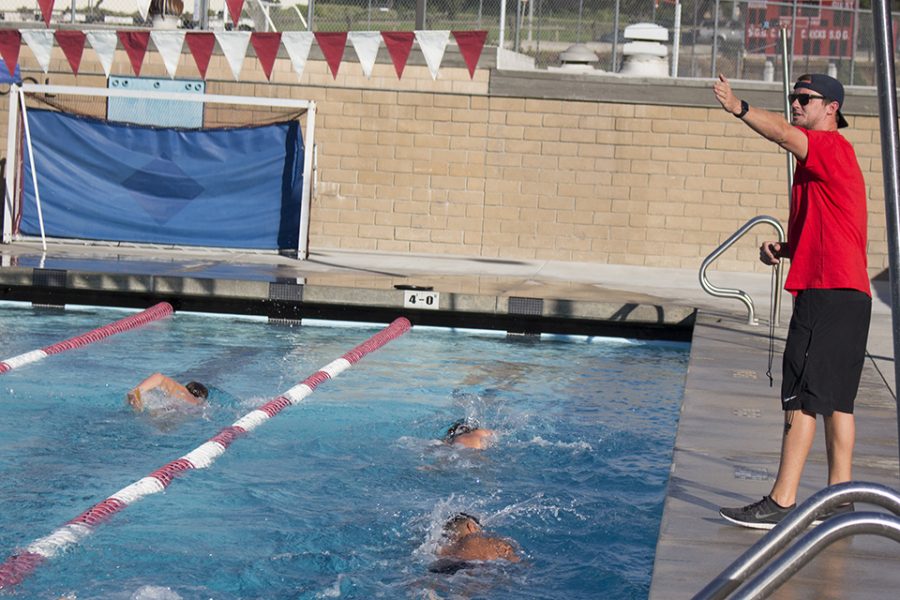 To understand how busy interim swim and dive head coach Ryan Kauth is these days, one only needs to step into his office. Unpacked cardboard boxes fill the space. A whiteboard showing a list of recruits hangs on the wall.
Seizing the opportunity
Follow him outside to the pool, and after just a few minutes of watching him run practice it becomes easy to understand why Kauth is so booked these days. While he could have never envisioned this job two months ago, Kauth has decided to seize the opportunity in front of him.
Previously, Kauth was working as an assistant swim coach at Mater Dei High School in Santa Ana, Calif. Most of what he knew about Biola came from his experience as a student athlete and coach at Concordia University Irvine.
He was caught off guard one day when Concordia's head swim coach Jeff Boss texted him to let him know about a job opening at Biola. The Eagles were looking for a new leader after previous coach Emily Mosbacher took a job at the University of Denver. Kauth saw the chance as a clear message from God.
"For a little while, I was looking at the [swim] coaching profession and… I was questioning a lot," Kauth said. "To have this open up was kind of eye-opening, looking up at the sky going, 'Okay, I hear you.'"
After being hired on Sept. 14, Kauth glowingly describes his first month on campus as truly incredible. He also appreciates the welcome he has received from the athletic department, especially athletic director Bethany Miller and associate athletic director Eddie Shepherd.
Shepherd, who previously coached the swim team for 11 seasons, has greatly helped Kauth's transition process.
"Eddie's one of the greatest bosses I've ever had," Kauth said. "I [was] calling him two, three times a day those first couple weeks… I couldn't imagine myself doing this without him."
Intensity, compassion and knowledge
The only thing that surpasses Kauth's appreciation for Biola, however, might be his team's appreciation for him. Kauth's coaching style, which he describes as loud, passionate and high-energy, has become popular among several Eagles swimmers.
"He's really positive and always motivational," said sophomore Andrew Benson. "He's strict, but he's also super nice."
Kauth backs his intense approach with a wealth of experience in NCAA Division I and Division II swim programs, preparing him to lead the Eagles against tougher competition in their first year as part of DII.
"He has a lot of knowledge that's clear," said senior Samantha Dammann. "He's really making it evident that he cares about us as individuals and really respects us as student athletes."
Kauth's practices include the intense sets of exercises he makes his team go through every day. He hopes to push his swimmers to higher levels both physically and mentally.
"The more that I can take their minds away from, 'Wow, I'm working really really hard and I'm completely exhausted,' it's more like, 'Hey, this is a lot of fun' and it [brings] more fulfillment," Kauth said.
Kauth may only coach the swim team on an interim basis right now, but that has not stopped him from taking full ownership of the team and pushing its athletes to keep improving. The Eagles will return to action for their second meet of the season at the Bay Area Invitational on in Oakland, Calif Oct. 27-28.
About the Writer
Austin Green, Managing Editor
Austin Green is a junior journalism major who was first among his friends to predict that LeBron James would sign with the Los Angeles Lakers. When not focused on school or work, he enjoys watching sports, going to the beach or coffee shops, and hanging out with the guys on his dorm floor.

[email protected]



I laughed the first time I heard a former editor-in-chief use the line "once you join the Chimes, you never really leave." Now in my third year here, it turns out...