Frank the Tank strengthens the Eagles
Biola's popular strength and conditioning coach shares about his unique role.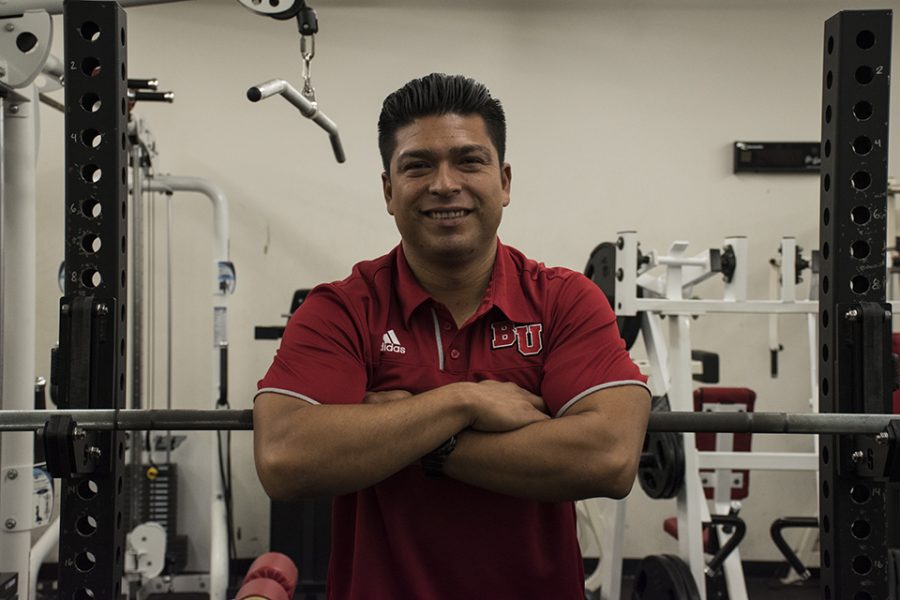 Biola's student athlete population is large and diverse. They operate on different schedules according to their teams. They occupy every dorm on campus, including a sizeable contingent of Hope Hall. When they are not competing or practicing, they spend time within their own separate communities. Of the few things the vast majority of Biola student athletes have in common, one stands out in particular: a mutual admiration for the man they call "Frank the Tank."
A strong devotion
Frank Ramirez became Biola's first full-time head strength and conditioning coach in 2016 after spending the previous six years as an assistant at Long Beach State. He also worked part time as head strength coach for nearby La Mirada High School. Without any previous experience attending or working at a Christian institution like Biola, Ramirez needed some time to adjust to a different type of campus community. However, Biola made that transition easy by welcoming him with open arms.
"People here are awesome," Ramirez said. "Definitely a different environment than I'm used to… I was never really in contact with people that would come to Biola. But man, I'm happy I'm here."
Ramirez's devotion to his job makes it easy to understand his success. He begins every day at 5 a.m. and arrives at his office by 5:30 to check emails and look at injury reports. At 6 a.m., he has his first team weight training session of the day. By the time 7 p.m. rolls around, Ramirez may have seen as many as six or seven of Biola's 13 athletic teams. Even then, his day may not be finished. If a team has a home game, he will take the athletes through a pregame warm-up and then often stay and watch the game to provide support.
"It's kind of a lot," Ramirez said with a chuckle.
Ramirez brings an upbeat, relational style to every single weight training session, seeking to bring a fun aspect to the hard work he demands of athletes.
"Athletes don't care how much you know until they know how much you care," Ramirez said. "I could be the best strength coach around, but if there's no relationship with the athlete, if they don't know that I care about their success, it doesn't really matter what we do."
Building relationships
During every training session, Ramirez makes a point of checking in with every single athlete individually, no matter how big the team, to learn about their lives outside of athletics.
That makes a huge impact on people like sophomore baseball player Bentley Acee. In an Instagram post on Sept. 27, Ramirez called Acee and a couple of his teammates "funny guys" that still "work hard." Acee respects Ramirez for many of the same reasons.
"He always gets to the point," Acee said. "He is all about other people [but] he doesn't deal with soft athletes."
Sophomore hurdler Micah Hickerson has gotten to know Ramirez better over the past couple of months and admires his investment in athletes.
"He's really fun to talk to outside of practice," Hickerson said. "He relates to the athletes well."
However, Ramirez's love for Biola may actually surpass its love for him.
"When I leave here—and I'm not saying I'm looking to leave—but when that day comes, I feel like Biola's impact on me will be a lot greater than my impact at Biola," Ramirez said.
About the Writer
Austin Green, Managing Editor
Austin Green is a junior journalism major who was first among his friends to predict that LeBron James would sign with the Los Angeles Lakers. When not focused on school or work, he enjoys watching sports, going to the beach or coffee shops, and hanging out with the guys on his dorm floor.

[email protected]



I laughed the first time I heard a former editor-in-chief use the line "once you join the Chimes, you never really leave." Now in my third year here, it turns out...