Christians should stand for the flag
The acceptance of culture includes our own.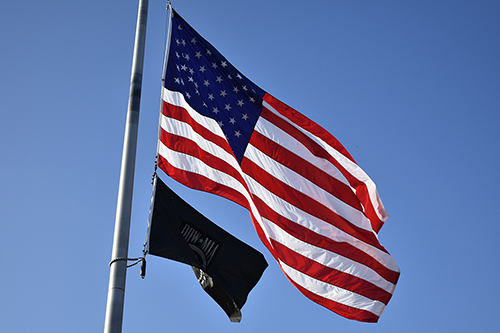 As Christians, we place a high value on respecting an individual's culture and background. When engaging in evangelism, we place value on understanding the culture so as to not insult those we wish to evangelize. Recent controversy about kneeling for the National Anthem should be taken with the same approach by Christians.
To put this into context, in my Intro to Islamic Theology class, I learned how important it is to treat the Qur'an with respect when interacting with Muslims. If I am reading a Qur'an in front of, or with a Muslim, I should respect their customs by neither letting the Qur'an touch the floor nor needlessly letting it get worn down. Yet engaging with the Qur'an does not mean I agree with it's teachings, rather I know that if I do not treat the sacred book of Muslims with respect, then any chance to witness to a Muslim will be gone. The same goes with the national anthem in the American context.
Attending Biola, we all engage in some form of American culture. Part of this culture is a tradition of respect for our country's flag and anthem. Understandably, the protest of the NFL is not about the flag itself, but rather the racial injustice taking place in our country. Regardless of where one stands on this political issue, we must remember first and foremost that we are witnesses who should respect the culture of which we are a part. This does not mean we have to believe the United States is perfect nor that it does not have racial issues. However, showing respect to the flag and anthem, an important tradition to so many Americans, is the right step in being a good witness by affirming respect for the culture. By doing so, you say "I do not wish to be divisive," rather you are saying "I wish to respect what you place value in."  This does not mean we will ignore the problem of racial injustice, rather it means we begin to foster an environment of respect in order to allow important conversations to occur.
While it is certainly true that kneeling in protest of the national anthem is one's right, I believe we should find other ways to protest. If we are to be consistent in respecting all cultures, that should include our own. Though it may be advantageous to politicize the flag and national anthem, this is something we must not do as Christians, regardless of which side one takes. Instead, we should be respectful and protest in ways we know will not divide the country and cause resentment and anger. This is not only harmful to a political cause, but much more importantly, harmful to our ability to witness as Christians.