Recovery ensues post hurricanes
As the Southeast starts to rebuild, students respond and extend a helping hand.
Following two separate hurricanes which rocked the Southeast United States in early September, people around the nation including several Biola students, are standing in solidarity with those affected as they start to rebuild.
Hurricanes devastate
The first was Hurricane Harvey, which ravaged Southeast Texas as it made landfall on Aug. 30. Less than two weeks later, Hurricane Irma made landfall in Southern Florida, causing major destruction in the Florida Keys and flooding areas in the southern part of the state. The hurricanes caused the evacuation of millions of Texans and Floridians alike, as the regions braced for the Category 5 storms to make landfall. The hurricane affected thousands, including many friends and family of Biola students.
"My cousin is a freshman at Miami University, and less than two weeks into school, he had to evacuate and fly home," said Joey Cohen, sophomore accounting major.
Mark Zandi, chief economist for Moody's Analytics, estimates Hurricanes Harvey and Irma to have caused between $150 million and $200 million in damages, which is similar to those caused by Hurricane Katrina.
Hurricane Harvey caused severe flooding throughout Southeast Texas, namely Houston. Streets that were normally high and dry became completely submerged over the course of two weeks.
"The flooding has been pretty severe… I have an aunt who lives in Florida who was directly affected by [Hurricane Irma]," said Aiden Acone-Chavez, senior studio arts major.
Relief help ramps up
Following the hurricanes, thousands of people found themselves displaced. The Red Cross estimated that over 32,000 people were in their shelters in the days following Hurricane Harvey. Since the height of the hurricane, the death toll in the US has risen to 82. This makes the hurricane one of the deadliest in the US since Hurricane Katrina in 2005.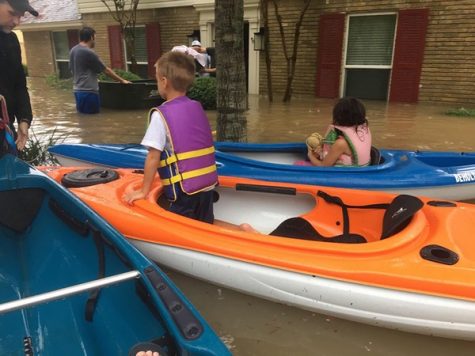 As the Southeast starts to rebuild, students respond and extend a helping hand.  |  Photo Courtesy of Kade Twitty
Despite the bleak numbers, people all over the country are beginning to pitch in to assist those who have been affected. Unlike Florida, which experiences hurricanes and tropical storms on a yearly basis, Texas was largely unprepared for a storm of this caliber. Celebrities across the nation, from singer Taylor Swift to Pro-Bowl defensive end JJ Watt, are using their influence to raise money and awareness for those affected. On top of this, Biola students and staff have been making efforts to assist Texans.
"[The Student Government Association] has been pursuing ways that the student body can practically help" said Renee Waller, Hart Hall senator and sophomore political science major. "One thing that student government is doing right now is creating a committee to try and partner with our sister schools and the affected areas."
Furthermore, the Student Missionary Union has been working diligently to get a mission trip set up to go to areas that were impacted by Hurricane Harvey.
"Biola is sending an SMU team to Houston, and that'll deal with community relief, as well as helping low income people and the homeless," Cohen said, an applicant for the aforementioned trip.
With citizens of Texas and Florida still recovering nearly a month later, Biola hopes to extend a helping hand to those still reeling from the devastation of Hurricanes Harvey and Irma, while standing with and praying for those affected in this time of need.