Immigrants deserve prosperity too
The story of a tattooed father and his pursuit of freedom for his family.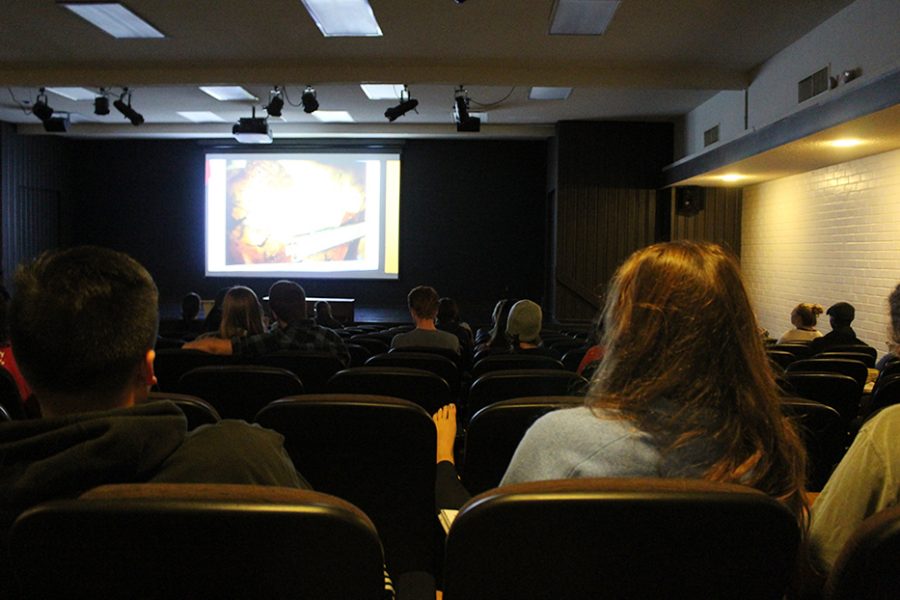 Alison Hartzler, Writer
September 26, 2017
"They were as invisible in life as they were in death," said Astrid Kaemper in the documentary  "Who Is Dayani Cristal?"
Don't fall asleep
Kaemper's job is to classify the dead bodies found near the Mexican-American border — 95 percent of the bodies remain unidentified — in attempt to locate their families.
Professor of modern languages Itzel Reyes screened the documentary "Who Is Dayani Cristal?" at At 6:30 p.m. on Sept. 21. Mayers Auditorium echoed with laughter as students discussed mountains of homework, weekend activities and dinner plans.
"Is this the event you chose for Spanish?" one student asked another.
"Yeah," she responded. "It seemed like the shortest." Finally, the film started.
The first scenes depict border patrol officers picking up the body of a migrant who died crossing the border. He was then taken to the border patrol forensic lab. After a photo is taken of the tattoo on his chest which reads "Dayani Cristal," he is placed in a freezer with 100 other dead migrants.
Gael García Bernal, the producer of this documentary, takes viewers on the migrant's journey across the Mexican-American border and—what he hopes—to a better future for himself and his family. However, this journey proves to be one of the most dangerous and deadly a migrant can take. In one scene, a man instructs Bernal on how to cross the border by a train nicknamed "The Beast." One of the more important lessons was how to stay on without dying.
"Don't fall asleep," he said. "That's how people slip off and die."
Luckily, small holes on the roof allow illegal passengers to hold on.
Back at the forensic lab, the tattooed migrant's body was rolled out of the freezer to be inspected. Each body brought into the lab is searched for items. Every item is placed in a bag labeled with letters and numbers corresponding to the tag on the body bag. In this case, a pocket sized prayer book and a belt buckle.
Dilcy Yohan, the tattooed man, met his wife while she was working in her mother's shop in Honduras. He claims he had come to buy something, but she says even then, she knew he had a huge crush on her. They were soon married and had a small baby boy. Later, along came a younger brother and then a little sister named Dayani Cristal. Dayani was the love of Yohan's life. So much so, he got a tattoo of her name across his chest.
"I asked him if it hurt," said Lorena in the film, "He said it did, but was worth it for his daughter."
Through the documentary, this man was transformed from a number to a face. Lorena said she knew the risks her husband was taking when he set out for America. To him, the idea of a brighter future and hope for his family made it all worth it.
The film ends with his body being brought back to Honduras where it was welcomed by the entire town to celebrate the life and death of Dilcy Yohan.
Careless ignorance
To the doctors, this man is a tally on a death toll. To some Americans, he is an illegal immigrant impending on our country for jobs. To Biolans, he is a soon-to-forget guilt trip. Yet to Lorena Ivón Ton Quevedo he is a husband, and to Dayani Cristal, a father.
As this film came to a close and the lights came on, I saw heads jerk up and phones switch off. Students were not paying attention. It was clear they had come for the mandatory class credit. While not all acted this way, I was disappointed at the lack of interest students showed in an issue so prominent in today's news. What was worse, during the discussion period following the film, students whom I witnessed either sleeping through half of it or blatantly playing games on their phones were speaking as if the point of the documentary had gone completely over their heads.
"They killed themselves by choosing to cross the border, not our laws," one student said.
"I didn't like how they were trying to humanize them… maybe to an extent but they are still illegals," another whispered to their friends.
After tearful stories from Reyes telling the audience her experiences with migrants, a student gave a powerful speech about the importance of caring for these people, especially through a Christian perspective. The man on my left who had slept through half of it raised his hand and asked how this can justify them illegally crossing into America. A man to the right of me was wearing some generic Jesus top huddled with his friends laughing about some plans they had after the event. It was clear they had both missed the point of the film.
Biola needs to wake up and realize we cannot set aside these issues and still pretend to care when we go on our yearly missions trips to Mexican orphanages. Matthew 25:45 says, "'Truly I tell you, whatever you did not do for one of the least of these, you did not do for me.'" There are students in our school who are affected by these issues and deserve to be listened to.