Volleyball collapses in upset
The Eagles blow a two set lead to lose their DII home opener.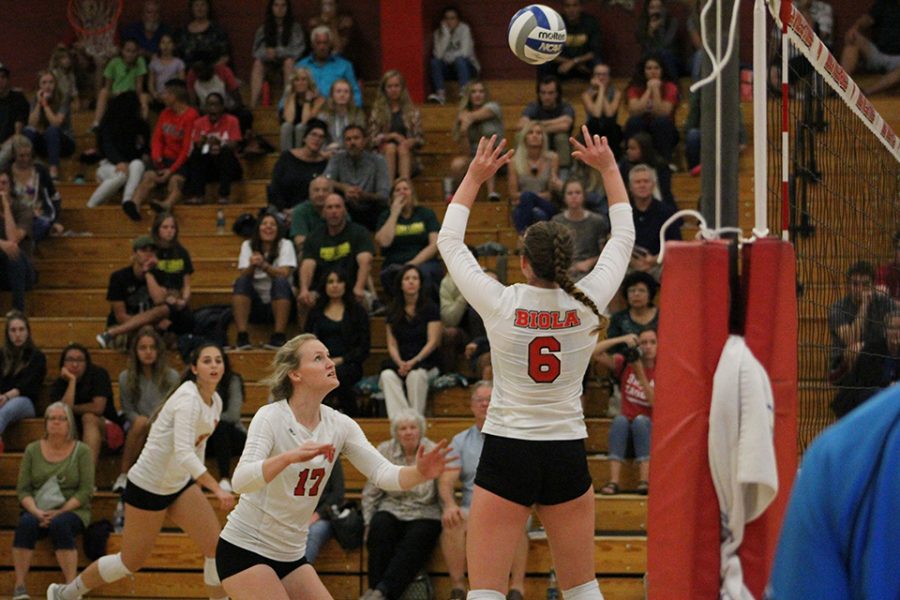 Point Loma Nazarene University spoiled a monumental moment in Biola Athletics history, as the Sea Lions rallied to defeat the Eagles in five sets during Biola's first-ever NCAA Division II home game in any sport. Biola controlled the match at first, winning the initial two sets and deflecting three straight Point Loma set points in the third before falling just short. However, the Eagles fell apart in the fourth and fifth sets, leaving them with their second conference loss in as many days.
After the game, head coach Aaron Seltzer spoke on the difficulties of playing games in back-to-back days, a tough challenge for his squad as they transition into the PacWest conference.
"We've got to figure out how to prepare better or do things differently," Seltzer said. "Mentally, we have to figure out how to come back out [on the second night of a back-to-back] and play at our level. We just didn't do it tonight."
Biola stormed out of the gates in set one, winning the first three points and never giving up that lead in an eventual 25-23 win. The second set echoed the first in many ways, with Biola controlling the set after an early 7-0 run but still allowing Point Loma to have a chance thanks to several errors and mental lapses. The Eagles ultimately won, again by a score of 25-23, and seemed primed for a sweep that would send a packed Chase Gymnasium, including President Barry Corey, home happy.
Point Loma picked up steam in the third set as the Eagles seemed more and more fatigued. Biola did not give up easily, however, denying the Sea Lions on three straight set points to tie the set at 24. However, two straight Point Loma kills ended the set at 26-24 and forced the match into a fourth period.
The wheels came off for Biola in set four, as they committed four of their 10 service errors in the set. The Eagles also allowed two aces and recorded four attack errors. Point Loma turned a 9-8 deficit into a 13-8 early in the set and never looked back, sending the game to a deciding fifth set.
The Eagles got off to a better start in set five, but again allowed Point Loma back into the match thanks to sloppy play. Three straight attack errors choked up a 7-5 lead that would prove Biola's last of the match. From there, neither team could figure out how to defend the net as they traded kills before Point Loma finally strung two points together to win 16-14 and complete the comeback.
Junior middle blocker Sierra Bauder led the Eagles in both kills and blocks, with 19 and seven respectively, while senior libero Tess Van Grouw led the defense with 23 digs. The Eagles' errors, however, defined the game. In addition to their 10 service errors, Biola allowed a whopping seven aces.
"The two things that have been our strengths all year, our serving and passing, were the two worst things we did tonight," Seltzer said. "We got served off the court."
About the Writer
Austin Green, Managing Editor
Austin Green is a junior journalism major who was first among his friends to predict that LeBron James would sign with the Los Angeles Lakers. When not focused on school or work, he enjoys watching sports, going to the beach or coffee shops, and hanging out with the guys on his dorm floor.

[email protected]



I laughed the first time I heard a former editor-in-chief use the line "once you join the Chimes, you never really leave." Now in my third year here, it turns out...