Volleyball starts Division II with pair of wins
The Eagles claimed two impressive victories over Sonoma State and San Francisco State.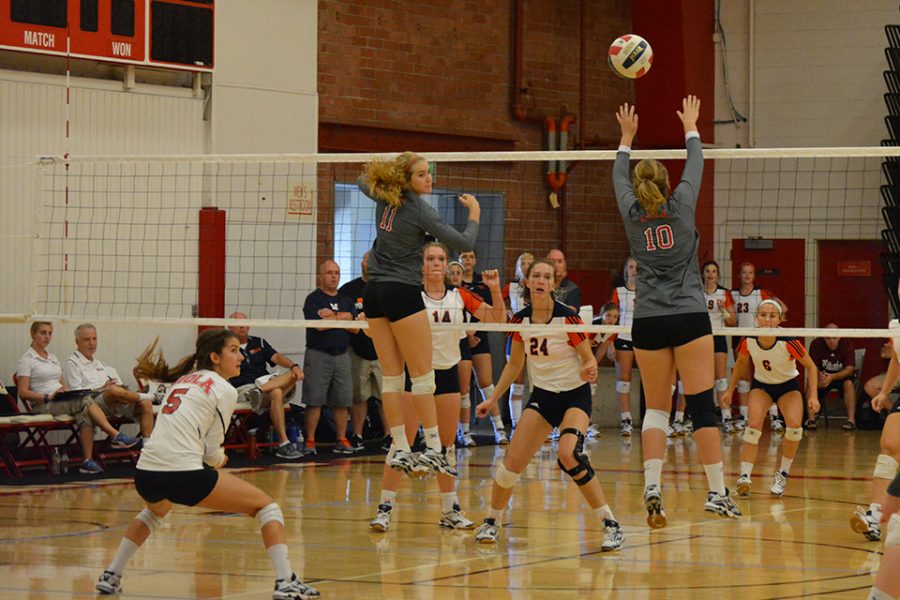 Biola women's volleyball started a new era on Friday, playing their first two games in NCAA Division II. They began with an impressive win over powerhouse Sonoma State in a five-set nailbiter, then pulled away from San Francisco State in a four-set victory to begin their season on a hot streak.
The first match of the day for the women came against the highly touted Sonoma State Seawolves, who have won 22 games in each of their last six seasons and have qualified for the NCAA tournament in five out of their last six seasons. The Eagles rose to the challenge despite the seemingly tough matchup.
The first four sets of the grueling match were all decided by two points and the fifth set seemed like it was headed to a similar finish. Biola started strong and finished well to close out the match in the fifth set with a score of 15-12.
Sophomore outside hitter Christina DenBoer led the Eagles with a team high of 21 kills, an ace and two blocks. Freshman outside hitter Bekah Roth recorded a stellar effort as well with 12 kills, and junior outside hitter Sierra Bauder chipped in with 11 kills to help lead a strong offensive attack from the Eagles. Junior setter Brinley Beresford dished out 55 assists to help set up the attack, and senior libero Tess Van Grouw led the defense by picking up 22 digs.
In their second match of the day, the Eagles took on a tough San Francisco State Gators team. The match started on the same track as the previous one, with the Eagles and Gators each taking a set. From there, Biola kicked it into high gear in the third and fourth sets, winning them by scores of 25-14 and 25-13 respectively.
DenBoer again led with 18 kills and six blocks, and junior opposite hitter Karly Dantuma followed by garnering eight kills and a block. Beresford had another strong effort with 23 assists, and Van Grouw led the defense yet again with 17 digs. The Eagles finished the day 2-0, keeping Biola Athletics' perfect DII record intact.
They continue play September 2 against Chico State at 9 a.m., followed by a match against CSU East Bay at 4:30 p.m.
About the Writer
Joel Ashor, Sports Editor
Joel Ashor is a junior broadcast journalism major with a love for sports, friends, and history. Joel is a Notre Dame football, Angels baseball, and Boston Celtics fan.

[email protected]



Growing up in the small city of Santa Maria, California as the youngest of four boys, I was always surrounded by things much earlier than normal, due to the fact that I experienced things through my much older brothers. One of the things I experienced was sports, and when I started watching...