Commencement remembers departed student
Administration honored the memory of Hasiet Joy Negash with graduating class.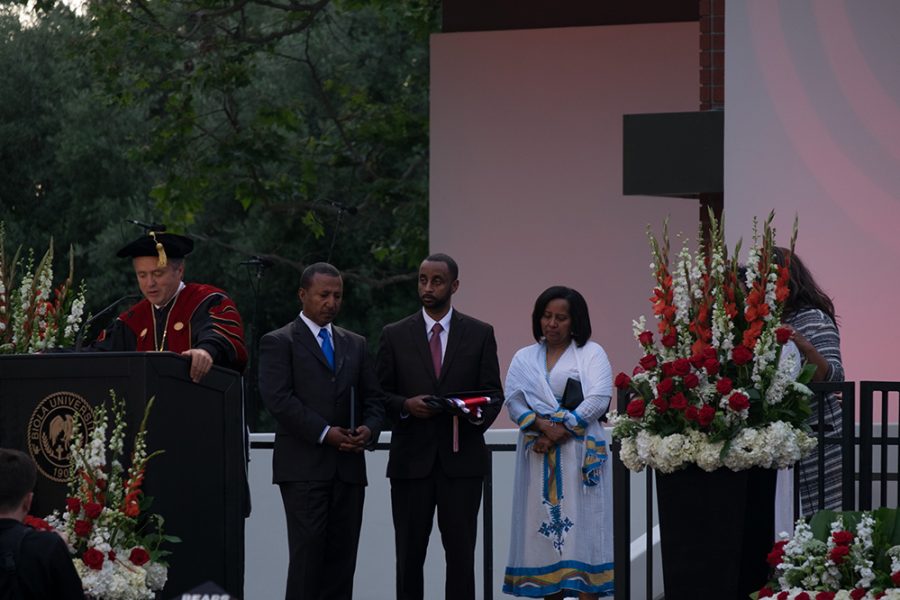 Biola University presented a posthumous degree to the parents of Hasiet Joy Negash during the evening commencement ceremony on Friday, May 26.
honoring Negash
Negash, a sophomore communication studies major, would have graduated at the ceremony. She died while on a  Student Missionary Union sponsored mission trip to India in January 2015. President Barry Corey bestowed Negash's diploma and a cap and gown on her parents, pastor and youth pastor after delivering the welcoming address.
"In 2015 we grieved the loss of Hasiet Joy Negash … whose love for Jesus was deep and abiding, evidenced by her desire to cross cultures and continents to see children in orphanages transformed by the gospel," Corey said during the ceremony.
The conferring of the degree was in response to the effect the sudden loss of Negash had on the Biola community, according to director of administration in the office of the president Brian Shook.
"Given that her death at the time … had such an impact on this community — she was so beloved by her fellow students and faculty and staff — and it was a very traumatic moment, for of course for her family, but also for her fellow students and for the entire campus," Shook said.  "And we decided as a university to take this step of granting her a posthumous degree."
her heart and her passion
Corey also requested the ceremony attendees consider sponsoring an Ethiopian child through Hasiet's Vision, a nonprofit organization Negash's parents founded after her death. The organization provides a way through which students can continue Negash's heart for missions, according to director of international admissions Fitsum Mulat.
"It's one of ours who had that vision," Mulat said. "This was her heart and her passion and it would be an opportunity, really, to partner with someone who came to Biola with a great heart and continue to be missional in our engagement, whether we support that ministry or whether we consider what's our life worth and how do we serve others with it."
Administration will also honor Negash's memory by planting a memorial tree with a plaque outside the Mosaic Cultural Center. Negash was heavily involved with Student Enrichment and Intercultural Development and the Student Missionary Union, according to Shook.
"It's just as a reminder — not just to honor her, but also just a reminder for the community about the importance of missions," Mulat said.
During the presentation of diplomas, those present held a moment of silence when a professor from the communication studies department announced Negash's name.
"It's just really remembering a student who was a part of our community, and just the joy that she brought to her classmates that are graduating with her," Mulat said. "She was a great student and really symbolized what missions … is all about. And so I believe it is just to recognize that journey of the student who is a part of the community."
About the Writer
Christian Leonard, Editor-in-Chief
Christian Leonard is a junior journalism major whose affinity for chickens is really getting out of hand. He can often be found singing in the office, wrapped around a book, or arguing for the classification of cereal as a soup.

[email protected]



I came to Biola a nervous freshman, not really sure what I wanted to do during my time at university. Years of prayer and waiting seemed fruitless, until an academic counselor recommended I contact the Chimes, since I had shown a...