Women's soccer ramps up for Division II
After a bitter end to a stellar 2016, the Eagles look to turn the page in their first NCAA season.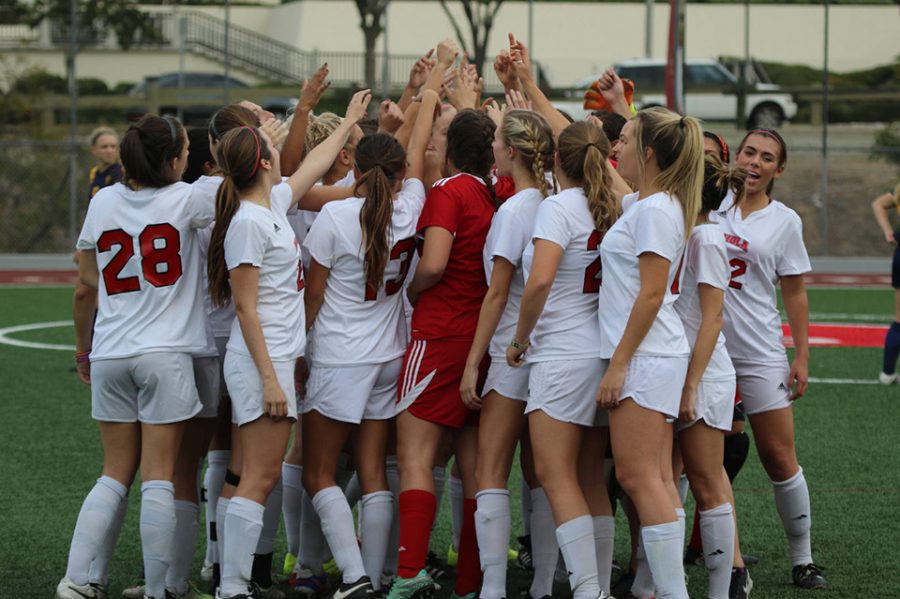 To say the 2016 season came to a disappointing conclusion for Biola women's soccer would be a massive understatement. The stacked team warrants consideration as one of the best Biola Athletics squads over the past school year, going undefeated until their final Golden State Athletic Conference championship game against Vanguard University. Adding insult to injury, the Eagles followed their crushing loss in the GSAC finals by getting upset in the first round of the National Association of Intercollegiate Athletics championship tournament.
Poised for impact
However, the team still remains one of the most talented at Biola and stands poised to make an immediate impact in their first season as members of the NCAA's Pacific West conference, focusing on the future instead of dwelling on the past.
"They've always been a team that sets their sights on what's next," said head coach Erin Brunelle. "Knowing the challenge before them of unknown teams, unknown conference and just being excited for what's next. They didn't linger too long on what could have been."
A renewed effort
The Eagles have put a renewed effort into reaching the higher level that Division II requires. During their spring workouts, they focused on becoming stronger and fitter as athletes, according to Brunelle.
"Definitely working on strength and conditioning a lot more… because the [other teams] are going to be pushing us around a lot," said senior midfielder Janae MeGorden. "Also just working on technique because we want to play good soccer, taking time to work on the little skills so we can play it on the big field."
Brunelle also hopes to develop the 2017 team as a unit with strong chemistry. The third-year head coach has tasked three new captains with forging the team's identity: Megorden, senior defenseman Cat Newberry and junior defenseman Maddy Brown.
"There's a new personality, a new leadership that is kind of taking ownership, so that has really had to transition into how we are going to move into next year with everything that's going to be different," MeGorden said. "I think that it's a testament [to our strength] that we are just plowing through the spring and excited about what the fall brings. It's a new chapter for everyone."
Fresh intensity
In many ways, that chapter began when the Eagles scrimmaged Cal Poly Pomona, a current Division II team, earlier this spring. Brunelle was pleased with what she saw from her team during a defense-dominated game in which Cal Poly won 1-0 on a penalty kick.
"We measured up fairly well," Brunelle said. "We saw some areas of weakness where we'd like to develop in certain spots on the field… but also received encouragement from their coaching staff that we'll do just fine in Division II, so that was really encouraging to hear."
Even so, the Eagles refuse to back down from training hard and bringing a fresh intensity to each game.
"We know that it's going to be really hard," Newberry said. "Every game going forward is going to be like a Vanguard or a Westmont game was in the past. While we're aiming high, we're just going to take it one game at a time and fight as hard as we can."
About the Writer
Austin Green, Managing Editor
Austin Green is a junior journalism major who was first among his friends to predict that LeBron James would sign with the Los Angeles Lakers. When not focused on school or work, he enjoys watching sports, going to the beach or coffee shops, and hanging out with the guys on his dorm floor.

[email protected]



I laughed the first time I heard a former editor-in-chief use the line "once you join the Chimes, you never really leave." Now in my third year here, it turns out...