Farewell to the fairways
Due to university-wide budget cuts, Biola Athletics made the tough decision to cut the men's golf team.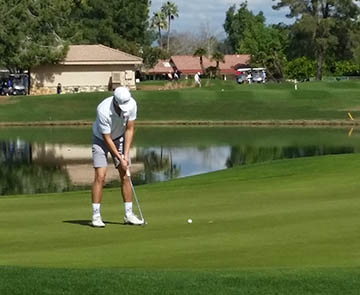 Biola Athletics announced on April 10 that, effective by the end of the spring 2017 season, the Eagles' men's golf team will be discontinued. This change is required because Biola has not been able to reach its enrollment goals over the last two years, which is a large problem for a university dependant on tuition to survive.
complete shock
All of the departments on campus were informed mid-March they needed to make budget cuts for this upcoming school year, and the athletic department was no exception. The men's golf program was selected because of many factors, including Title IX and a separate prioritization and planning study.
This piece of news is obviously hard to swallow for the athletes on the team, many of whom came to Biola because they were recruited to play golf.
"I was in complete shock, I couldn't even say a word," said sophomore Dominic Ariondo. "I know the entire team was heartbroken. We all love golf and have played almost our entire lives."
Head coach Max Allen, who took over as the men's golf coach in June 2016, is unsure what the future holds for him in terms of employment, but does know he stands by his team through this tough time.
"My focus has been on saving the program and finding other opportunities for my guys if necessary," Allen said. "They are my first priority."
fundraising effort
The athletes will keep their athletic aid in the form of scholarships through their graduation, should they decide to stay at Biola. The athletes were also granted release, should they decide to leave Biola and become a student athlete at a different university.
Allen has not given up hope yet and is doing all he can to see if there are any other options Athletics can take in order to save the men's golf program.
"The odds are against us but yes, there is a chance we keep [the team] going for at least another year," Allen said. "The men's golf families began collaborating on a fundraising effort."
The press release from Biola Athletics says Biola will be sponsoring 16 sports for next season, which does not include men's golf. That indicates they do not see a way to keep men's golf, but only time will tell the outcome.
For now, the team has the Golden State Athletic Conference championships on April 24-25 to prepare for, which is their final tournament of the season and could be their final tournament as a program.