Biola posts impressive results at Invitational
Otah and Berz lead track and field to strong showing at Pomona-Pitzer Invitational.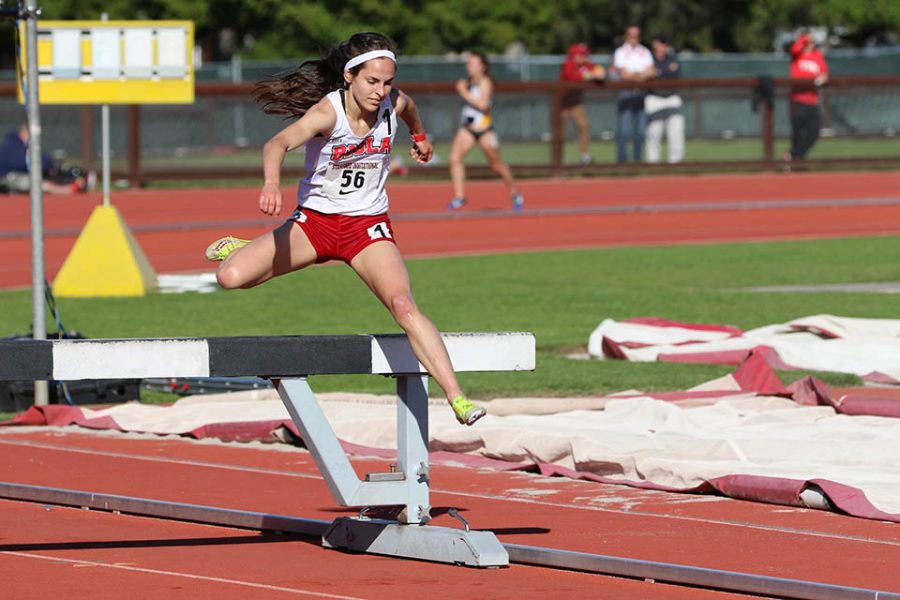 Biola's track and field team traveled to Pomona, Calif. on April 8 to take part in the 31st annual Pomona-Pitzer Invitational. The Eagles impressed while competing against rival schools Azusa Pacific University and Westmont College, among other competition.
a great place for GSAC
Freshman Ashley Otah set a personal record in the 100m hurdles, posting a time of 14.85. This broke her previous personal record by 0.02 seconds and gave her seventh place overall in the event. This bodes well for the future of track and field since Otah is just a freshman and will continue to improve.
"Everyone did really well at the meet. There was a lot of national qualifying times and personal bests, so overall I would say it was one of our better meets," Otah said. "I had an all- time PR yesterday by two-hundredths of a second and I'm finally under 15 seconds, and it's putting me in a great place for GSAC as well as national outdoor championships."
In addition to Otah, sophomore Lauren Biltonen and senior Amber Godinez took 43rd and 48th in the 100m hurdles. Senior Lyndee Dawson continued her fantastic season with another great run in the 1,500m race. She set a personal best by four seconds with a time of 4:30.59 to finish 8th overall in the event. In the 100m dash, freshman Paige Labare turned in a stellar performance, finishing eighth, with a time of 12.35.
an excellent performance
On the men's side of  the competition, the day was highlighted by an excellent performance from senior Brandon Berz in the 3,000m steeplechase. He took an impressive 10 seconds off his personal best time, posting a 9:42.73 to finish seventh place in the event. Another athlete who had a solid day was sophomore Brian Marcus, who showed great endurance by posting a time of 55.97 in the 400m hurdles to take 13th overall. In distance running, sophomore Aditya Lal posted a time of 1:57.77 in the 800m run to place 43rd in the event. Freshman Robbie Gleeson continued his great season by posting times of 1:58.25 in the 800m and 4:03.19 in the 1,500m run.
It was a solid day from the team as a whole as many athletes set personal bests and placed well for the Eagles.
The Eagles look to continue the improvement when they next compete on April 13 in four different meets. They will send athletes to the Beach Invitational, Bryan Clay Invitational, CSULA Twilight Open and the Mt. San Antonio Relays meet.
About the Writer
Joel Ashor, Sports Editor
Joel Ashor is a junior broadcast journalism major with a love for sports, friends, and history. Joel is a Notre Dame football, Angels baseball, and Boston Celtics fan.

[email protected]



Growing up in the small city of Santa Maria, California as the youngest of four boys, I was always surrounded by things much earlier than normal, due to the fact that I experienced things through my much older brothers. One of the things I experienced was sports, and when I started watching...