Arizona Christian defeats Biola in hard-fought battle
Biola's tennis teams both suffer 6-3 defeats in Phoenix.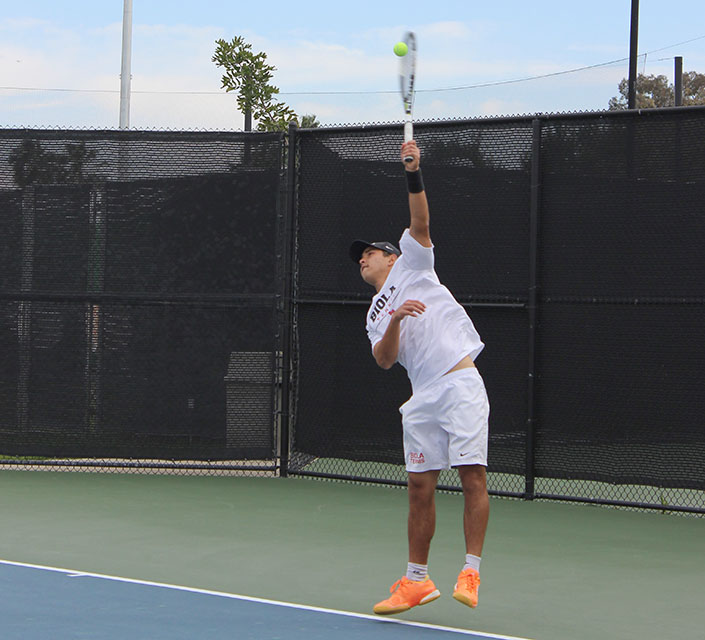 The Biola men's and women's tennis teams traveled to Phoenix to take on the Arizona Christian University Firestorm on March 3. The men came in with a record of 2-6 while the women entered with a 2-7 record.
In men's singles play, junior Lucas Lee won 6-3, 6-2 versus ACU's Alberto Lapiedra while the Firestorms' Enzo Douillac defeated junior Philip Westwood in a close matchup 6-1, 4-6, 7-6. Arizona Christian would go on to take three of the last four singles matchups in impressive fashion.
In doubles play, Biola's partnership of Lee and freshman Derek James defeated the Firestorms' duo of Lapierda and Seth Moore 8-4, but ACU took the final two doubles matchups for a 6-3 overall win.
In women's tennis, Biola's freshman Tinisee Kandakai was the lone winner as she defeated ACU's Autria Compton 6-3, 6-1. The Firestorm took the other five singles matchups.
On the doubles court, Biola's combo of freshman Lauren Lee and junior Brooke Sanford took an impressive win over Melanie Dreux and Compton 8-5. Kandakai and sophomore Katie Boesl also beat ACU's Desiree Curiel and Gabby Gutierrez 8-4, but ACU took the 6-3 win regardless.
Women's tennis plays next at home on March 6 at 3 p.m. against Indiana Wesleyan University while the men's team plays again March 10 at 6 p.m. against Hastings College of Nebraska, with both matches taking place at the Biola Tennis Center.
About the Writer
Joel Ashor, Sports Editor
Joel Ashor is a junior broadcast journalism major with a love for sports, friends, and history. Joel is a Notre Dame football, Angels baseball, and Boston Celtics fan.

[email protected]



Growing up in the small city of Santa Maria, California as the youngest of four boys, I was always surrounded by things much earlier than normal, due to the fact that I experienced things through my much older brothers. One of the things I experienced was sports, and when I started watching...