Baseball posts first conference win
Travelling to William Jessup winless in the GSAC, Biola bested the Warriors for their first conference victory.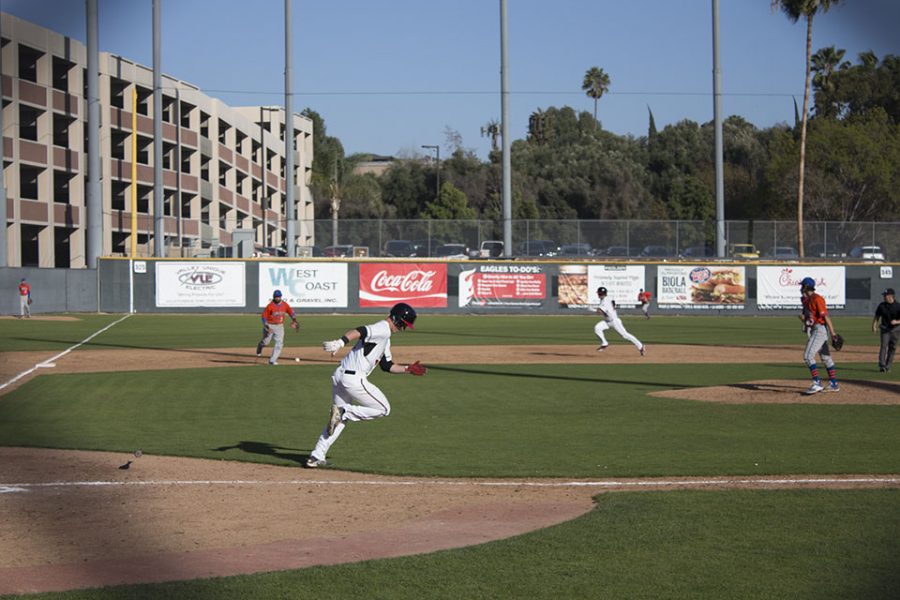 Keaton Moore, Writer
March 5, 2017
In desperate need of a win in the Golden State Athletic Conference, the Eagles rode the success of senior catcher Rawley Hughes and sophomore center fielder Jerron Largusa to a 6-2 victory at William Jessup University. Supported by another quality performance from senior starting pitcher Jimmy Gallarda, Biola moved to 1-5 in the GSAC.
In the first inning, Largusa and Hughes put the Eagles ahead 2-0 with a pair of leadoff singles. Two innings later, Largusa launched his fifth home run of the season to give the Eagles a 3-0 lead. He finished the game 2-5 with two RBIs and scored one run, while Hughes had a great game, going 4-5 with three RBIs.
Although the Warriors managed to score off Gallarda in the sixth, he pitched the Eagles through seven strong innings. Over his last three appearances, Gallarda pitched at least seven innings and given up only one run in each of his last three starts. His victory over the Warriors bumped him to 3-2 and improved his ERA to 1.57, the lowest among starting pitchers in the conference.
More than any other game this season, the Eagles flashed their base-stealing potential. Sophomore third baseman Joey Magro and junior first baseman Colton Worthington both stole two bases and Largusa stole a bag of his own in the first.
The Eagles finish their series against William Jessup with a doubleheader starting at 11 a.m. on Saturday, March 4.