Eagles' relay earns All-American honors on day two of Indoor Championships
Biola athletes competed in five track and field events, highlighted by the women's success in the 4x800m relay.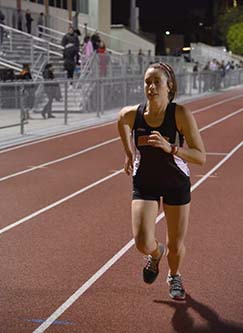 Day two of the National Association of Intercollegiate Athletics Indoor Track & Field Championships brought more trials than triumphs for the Eagles, but featured the Eagles' women's 4x800m team earning All-American honors in their relay final. Friday marked the beginning of finals events, including two finals for Biola athletes.
In preliminary events, junior Hannah Hunsaker ran a 2:59.57 in the women's 1,000m for a 10th place overall finish but failed to qualify for the final. Senior Lyndee Dawson found more success in the women's 3,000m prelims, qualifying with the ninth overall time of 10:21.67. Dawson will run in the final Saturday.
Freshman Paige LaBare ran the 60m prelims placing 20th overall with a time of 7.87 seconds, which was not enough to qualify for the final.
Another freshman, Sarah Prystupa, competed in the women's pole vault final. Prystupa gathered national championship level experience, but could not reach the podium, finishing tied for ninth with her highest successful attempt of 3.47m while unable to clear 3.57m in her final attempt.
After qualifying third overall in the women's 4x800m prelims Thursday, the team of senior Stephanie Chaires, senior Alisa Murray, Hunsaker, and Dawson aimed to finish on the podium in the finals. The Eagles finished in seventh place with a time of 9:26.03, earning All-American honors.
The NAIA Indoor Track & Field Championships conclude Saturday with Biola athletes competing in the women's 3,000m and distance medley relay, and the men's 5,000m.