Indoor Championships begin with success for Eagles
Dawson, Hunsaker and Murray lead successful relays qualifying for two finals.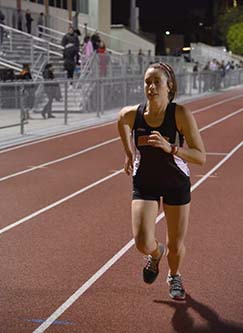 Track athletes from all over the country descended upon Milligan College in Johnson City, Tenn. for this year's NAIA Indoor Championships. Day one consisted of qualifiers and preliminary races with Biola athletes competing in two individual events and two relays, with the Eagles' runners having strong showings in all events.
Junior Stephanie Croy and sophomore Emily Ransom both took part in the women's 5,000m, but both fell short of qualifying for the final. Ransom came agonizingly close with a time of 17:55.68 but missed out on the final qualifying spot by five-hundredths of a second. Croy came not far behind either with a time of 17:59.06, finishing fifth in her heat, just one spot out of an automatic qualification spot.
Biola runners featured in two relays in today's action: the women's 4x800m, and the women's distance medley relay. In the 4x800m, the team consisting of senior Stephanie Chaires, senior Alissa Murray, junior Hannah Hunsaker, and junior Lyndee Dawson ran an impressive 9:21.79, finishing third overall in prelims. The DMR team of Hunsaker, freshman Carissa Kalpakjian, Murray, and Dawson finished seventh overall in prelims with a time of 12:07.21. Both teams qualified for the finals, with the 4x800m on Friday and the DMR on Saturday.
The NAIA Indoor Championships continue Friday when the Eagles' will be competing in pole vault, 1,000m prelims, women's 3,000m prelims, and the women's 4x800m final.