Eagles remain winless in conference through Westmont doubleheader
Despite crucial swings from Largusa and Van Antwerp, Biola lost both games to the Warriors.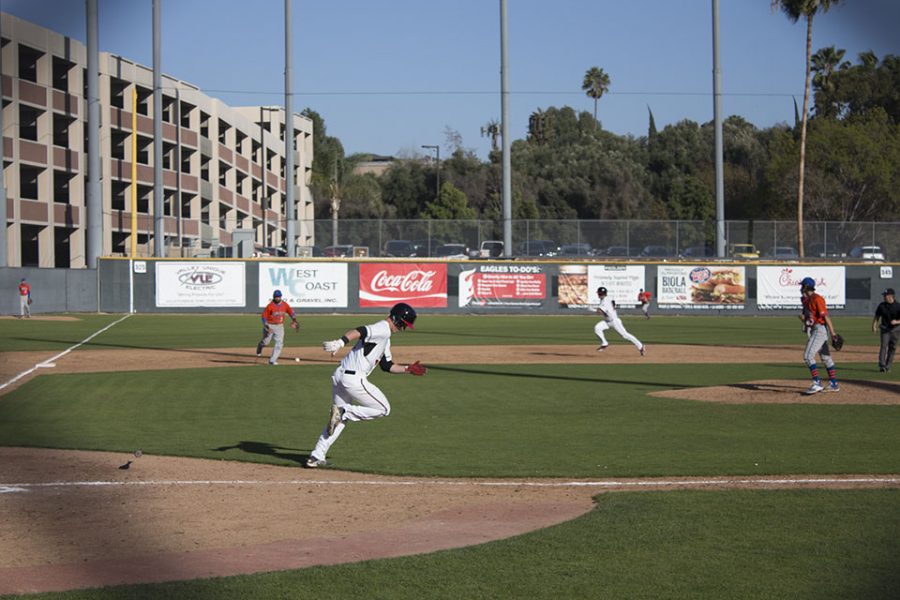 Keaton Moore, Writer
February 28, 2017
Wrapping up their three-game series at Westmont College with a doubleheader on Saturday, Feb. 25, the Eagles have yet to win a Golden State Athletic Conference game this season. After stumbling to a 6-1 loss in game one, they lost game two to the Warriors in extra innings by the score of 6-5.
Two batters into game one, sophomore center fielder Jerron Largusa gave Biola a 1-0 lead with a solo home run. He not only leads the Eagles with four home runs this season, but is now tied for the second-most in the conference.
After the Warriors tied the game with a home run in the bottom of the second, the Eagles fell victim to Westmont's aggressive offense and their own errant fielding. Despite junior starting pitcher Micah Beyer's strong seven-inning effort, several infield errors took credit for three of his four allowed runs. As the Eagles lost game one to the Warriors, Beyer's record dropped to 2-3.
Faced with a one-run deficit in game two, the Eagles managed to take a 4-1 lead over the Warriors with a massive fifth inning. Sophomore second baseman Joey Magro tied the game with an RBI double that scored senior designated hitter Jonas Wellan, who walked to start the inning. Following two quick outs, senior third baseman Sam Thorne singled in junior first baseman Colton Worthington to give the Eagles a 2-1 lead. Senior right fielder Jeremy Barth coaxed a bases-loaded walk, which drove in a run and set the stage for junior shortstop Ricky Perez to score off a wild pitch.
As the Warriors evened the score with a home run in the fifth and a two-run homer in the sixth, the game entered extra innings with the score tied 4-4. After two scoreless innings, freshman pinch hitter Andy Van Antwerp put the Eagles ahead 5-4 in the tenth with an RBI double.
Yet, Westmont answered with a game-winning RBI single that drove in two runs in the bottom of the tenth. Westmont's sweep of Biola gave them a 3-1 conference record while the Eagles are now 0-5 in the GSAC.
Before another conference series on the road, the Eagles return to Biola to face the Bethesda University Flames on Tuesday, Feb. 28 at 2 p.m.